CityNews – The Thailand Automotive Institute is aiming to produce 3 million automobiles a year by the year 2017 under new plans set out by the Industrial Ministry.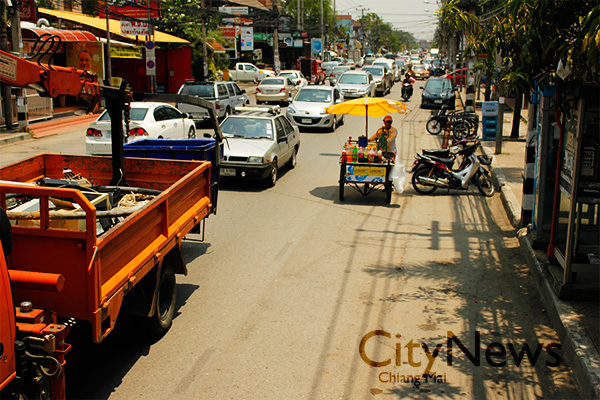 The ever-crowded Nimmanheiman Road…
Despite the ongoing economical crisis that has caused a predicted 10% decrease on production year-on-year (2.45 million units), the Thailand Automotive Institute's new director, Vichai Jirathiyuth, declared he would push Thailand to the number one automobile producer among ASEAN countries.
Vichai also claims that regardless of the competent rival Indonesia, which is predicting a 15% growth this year, he is confident that Thailand will manage to grow at least 12% in 2014. The Eco-Car Phase 2 Policy gives the Institute an advantage and will follow the governments campaign to produce automobiles with low fuel consumption rates, leading to a 'promising future'.
However, with over 28 million registered car owners in 2010 according to the World Health Organisation, Thailand has one of the largest percentages of car ownerships in Southeast Asia and ranks 9th in the world for automobile production.
The aims set out by the Automotive Institute seem to contradict the government's plans to create a greener Thailand due to the sheer number of units planned. Despite the attempts though lower fuel consumption policies, it seems the amount of cars in Thailand is already at saturation and a larger production will only lead to greater pollution and traffic problems.
Automobile exports from January to February this year created profits of around 123 billion baht and despite the implications of ASEAN Economic Community due in 2015, Vichai predicts a steady growth as emerging markets such as Cambodia, Laos, Vietnam and Myanmar would push for a higher demand of export.