CityNews – According to the Bangkok Post, a Facebook user named Khwanruethai Guy Coppernoll, posted photos of a man vandalising Doi Inthanon, carving nicknames on a rocky slope which has now gone viral, leading to the arrest of the vandal.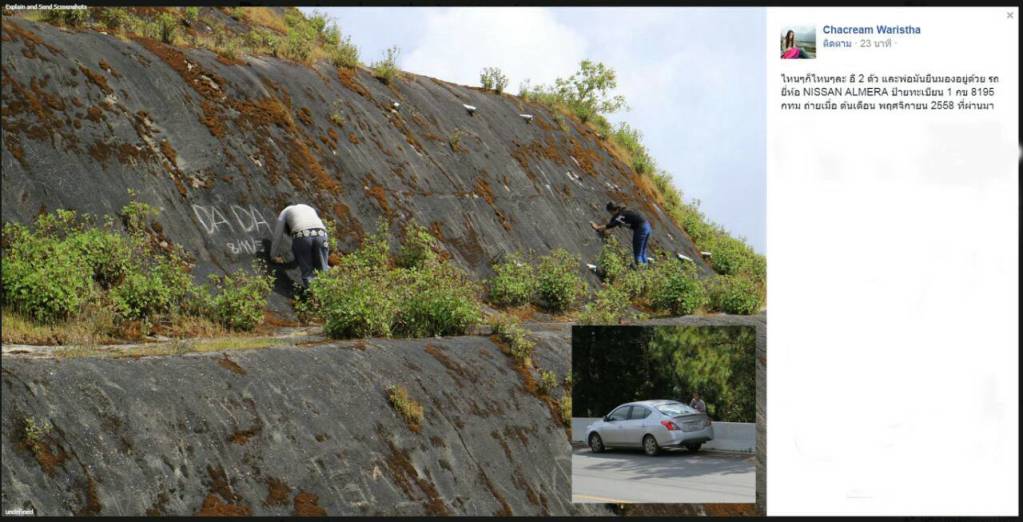 The photo that was taken at Doi Inthanon, Chiang Mai province, was shared along with a message saying "It seems that you are proud of carving your name up there. You even brought your son to take a photo with you. I would be deeply ashamed if I am you."
After the images went viral and many netizens asked for the arrest of the man in the photograph, police were able to open an investigation which lead to the arrest of a 28-year-old Thai tourist from Chonburi.
The man was fined 500 baht in accordance with section 16 (4) of the National Parks Act of B.E. 2504 (1961 A.D.), which states "Any actions purporting to harm or decay soil, stone, pebble, or sand, has a penality of up to 500 baht."
Pornthep Charoensuebsakul, head of Doi Inthanon National Park, asked tourists to help monitor and maintain the natural resources in Doi Inthanon and other areas and refrain from vandalism.