CityNews – The ASEAN-Korea Centre (Secretary General Chung Hae Moon) organized the 'ASEAN Tourism Human Resources Development (HRD) Program' in Siem Reap, Cambodia on 22-23 August, Yangon, Myanmar on 26-27 August and Chiang Mai, Thailand on 29-30 August.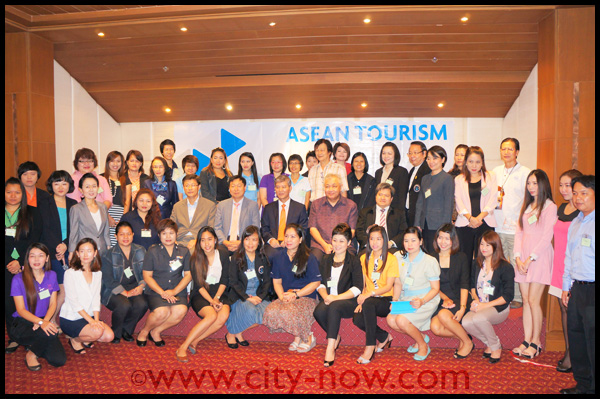 The HRD program is held in cooperation with the Ministry of Tourism of Cambodia, Ministry of Hotels and Tourism of Myanmar, Tourism Authority of Thailand and will be implemented in each country as a two-day program that provides lectures on 'Korean Tourism', 'Korean Culture' and 'Korean Language'. The participants of each program will consist of 50-60 tourism and related industry professionals from the respective countries.
The 'Korean Tourism' lecture offers an in-depth analysis on tourism trends and prospects of the Korean tourism market while the 'Korean Culture' lecture will lay out an overview of Korean culture including its traditions, lifestyle and the Korean wave phenomenon. At the 'Korean Language' lecture, participants will be able to learn basic level Korean including practical expressions that can be utilized in day-to-day work when communicating with Korean tourists.
Cambodia, Myanmar and Thailand have shown a continuous increase in visitors every year. The HRD program aims to further invigorate tourism between the three countries and Korea by fostering the understanding and service capacity of ASEAN tourism professionals on Korea and Korean tourists.
Tourism trends
? Continuous increase of Korean visitors to Cambodia, Myanmar and Thailand since 2009 (source: Korea Tourism Organization)
– Cambodia: (09') 197,725 -> (12') 411,491
– Myanmar: (09') 12,508 -> (12') 34,805
– Thailand: (09') 618,227 -> (12') 1,169,131
Characteristics of each region
? Siem Reap, Cambodia
– Siem Reap is home to the famous stone temple Angkor Wat, which has been designated as a UNESCO world cultural heritage
– In the first half of 2013 alone, over 1.12 million people visited the city, of which Koreans accounted for the highest proportion with 202,700 people
? Yangon, Myanmar
– In the city of Yangon, Myanmar, historical sites are scattered all over the city (particularly famous is the golden Shwedagon Pagoda, which has attracted Buddhists from all over the world)
– Since Myanmar opened its doors in 2011 the travel demand among Koreans to visit the country has risen sharply and as a consequence, Korean Air's direct flights from Incheon to Yangon was increased from 4 times a week to 7 times a week at the end of last year
? Chiang Mai, Thailand
– Thailand is a tourism giant and is the most visited ASEAN member country for Koreans (during 2012, a total of 1,169,131 people visited the country)
– Chiang Mai is the largest and most culturally significant city in northern Thailand and the structure of the ancient kingdom remains intact within a walled area, called the 'old city'. Meanwhile the outer areas, the 'new city', is contrastingly modern, creating a co-existence of traditional cultures and modern amenities
– Korean air operates direct flights from Incheon to Chiang Mai 7 times a week in reflection of the city's popularity
Participants of the ASEAN Tourism Human Resources Development Program in Lao PDR during 24-25 June