Yesterday, March 31st, giant online retail company Amazon was granted permission to test its newest drone delivery system during the Songkran festival this year. The announcement marks a monumental partnership with the Thai government that could lead to the expansion of Amazon's operations in Asia.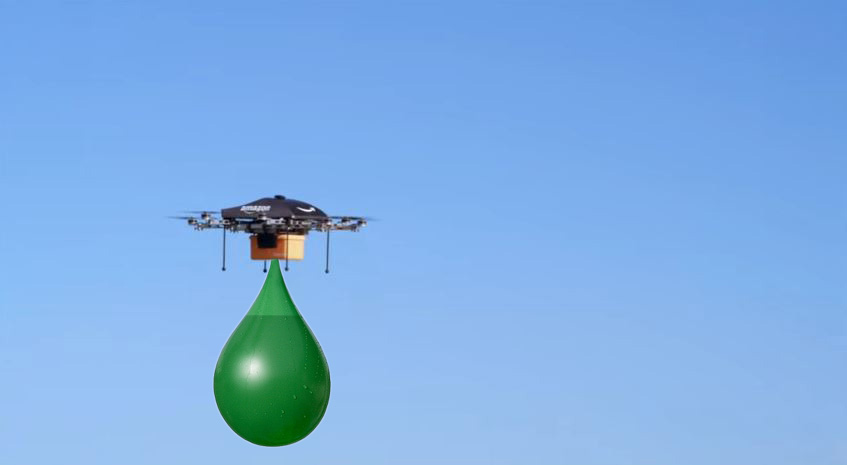 Image captured from Amazon's latest promotional video.
The Seattle-based company will be testing their latest package delivery drone in Thailand, and to launch the trial period during Songkran, those packages will be balloons filled with water. The unmanned drones can travel up to 16 km from a central location and carry a load of up to 18.50 kilogrammes.
Amazon has been developing and testing drones for commercial package delivery for the last few years, conducting testing in Australia, Canada, France, and the United Kingdom. Thailand is the newest country to the list.
Blake, 28, who is a tourist staying in Chiang Mai and will be here during Songkran, said, "It will be really cool to see them in action," adding, "it's not often we hear about drones dropping nice things out of the sky."
While some tourists are excited, many locals have expressed concern. "It's dangerous for people on the streets. What if I am going to work and don't want to get drenched in water from above?" exclaimed Turn, who works near Chiang Mai Gate.
Amazon insists that there is no danger, touting that the drones are equipped with new geofencing software to identify and define geographical boundaries. The drones will be restricted to testing in Chiang Mai and are approved to fly only within the boundaries of the old city.
"It is songkran, we will all be wet anyway! This will be the coolest gimmick ever." said Blake.