CityNews – On Wednesday, 21 May, customers of Mitsubishi Nan (Mitsunan 999 Co. Ltd) protested at the city hall despite the military's martial law banning public gathering of more than ?ve persons, which was announced just the day before. The customers were aware of this law and stated they were protesting for justice from the Of?ce of the Consumer Protection Board (OCPB).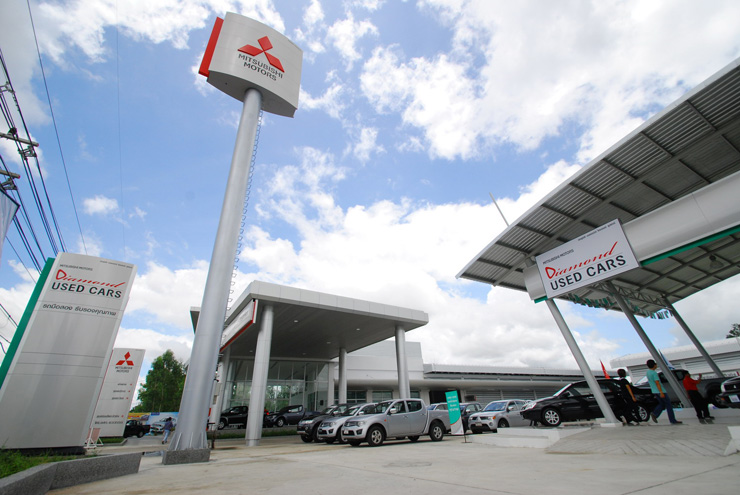 A Mitsubishi showroom in Thailand.

The group of over 85 people brought their vehicles, with and without licence plates, to the protest site. The vehicles were adorned with banners which stated that Mitsunan 999 had taken advantage of them and caused them to miss out on the first car tax rebate.
Boonmak Nakwatchara, a representative of the customers from 15 different areas of Nan, told reporters that over 200 customers of Mitsunan 999 who leased or owned their vehicles were seeking justice. Some of them complain that they are still using temporary licence plates (red plates) given to them by the dealer a year after the purchase, which means they are often ?ned by the police when traveling outside Nan. Some of them had paid cash but had not received their vehicle registrations (green books) or proper licence plates, which in turn had caused them to miss out on the government's ?rst car tax rebate program.
One of the protesters was a monk from Wieng Sa in Nan, who had purchased a car for his temple's errands and daily needs. He has since been using the red licence plate and as a consequence, has been ?ned many times by the traf?c police.
Nipon Niyom, head of Nan OCPB, met with representatives of the customers and collected the necessary documents from them. He is now sending the case ?les to the main OCPB for further legal process.