Following 34 days when not one new case of a patient with coronavirus was found in Chiang Mai, it was announced at the daily briefing today at provincial hall that there is now one confirmed new case.

Governor Charoenrit Sanguansat announced the news of a 39 year old man from Sankampaeng who had recently returned to Chiang Mai from Phuket, being infected with the virus.
An emergency meeting was held today by many groups from the public health to medical doctors about stepping up preparations for a possible second wave.
The governor said that the patient returned to Chiang Mai on the 1st May along with his wife and three year old child and were found not to have a temperature at the airport on arrival. On the 13th the man tested positive for the virus and is now being treated at Nakornping Hospital.  The Sankampaeng sub-district office has taken a crew in to thoroughly clean the family's home.
It was also announced that on return to Chiang Mai the family had been in self-quarantine for 14 days. No one in the family had any symptons, including the man, but because they were in a high risk group, they underwent a mandatory test on the 13th day of quarantine, and that was when it was discovered that the man had the virus.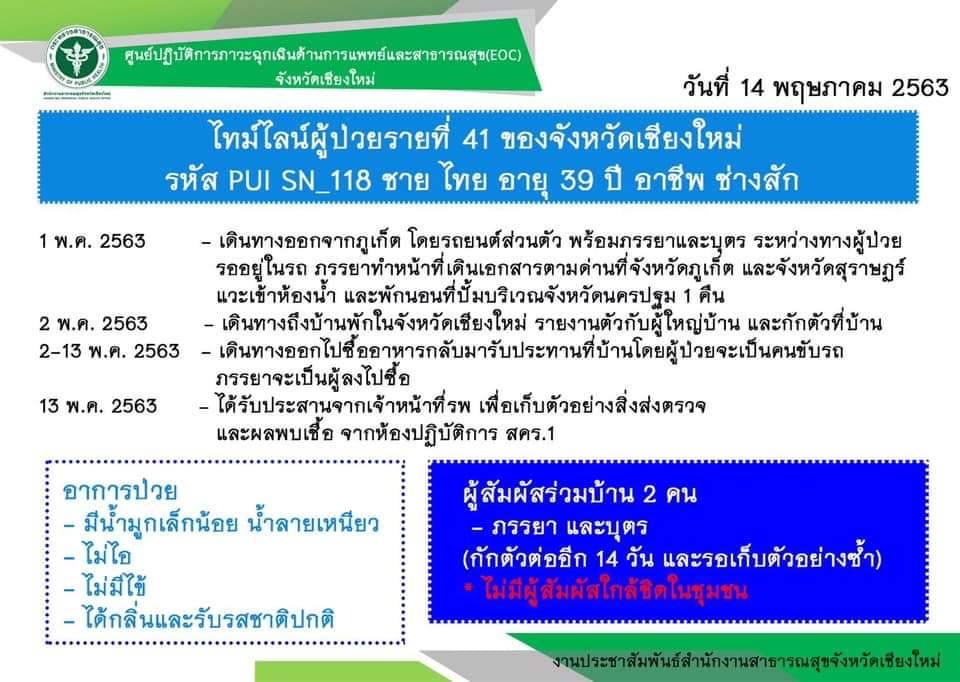 According to doctors, he still shows no signs of any illness.
The family had driven up to Chiang Mai in a private vehicle with one nights' stop over in Nakorn Prathom. On arrival they immediately reported to their village chief before entering quarantine. The only times they left home was when they went to buy food and the man said that he always stayed in the car while his wife wore a mask and followed social distancing protocol as she got the food.
The governor asks citizens to not be alarmed by this news and insists that we maintain our current protocols and stay at home as much as we can.