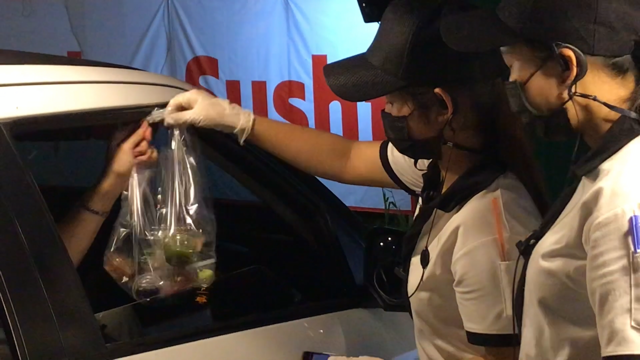 Daiso Sushi, in an attempt to survive the latest shutdown advertised their new in-car buffet last week where customers could be served food and dine in their own cars in the car park.
After two very successful days with the car park often filled, the governor of Chiang Mai made an emergency announcement banning such practice, citing danger to the public.
Undeterred the restaurant has come up with a new plan for survival – a simple drive-thru, with all dishes selling at 20 baht.
With 20 staff depending on the business's survival, the restaurant's manager said that they needed cash flow and adjusted their in-car dining to a simple drive-thru.
The public has responded well to this change and last night saw a constant stream of customers driving through to pick up food to take home.
By 9pm, which is when restaurants must stop serving food, staff were struggling to keep up with orders; the salmon sashimi apparently a big hit.
Following popular demand, the restaurant is now offering a special 120 baht set menu which customers can book on Line and come to pick up.