With You Always: AIS keeps its promise after serving Thai people for 29 years. Join AIS celebration extravaganza offering free gifts to over 42 million customers and saving the world by disposing E-wastes properly with AIS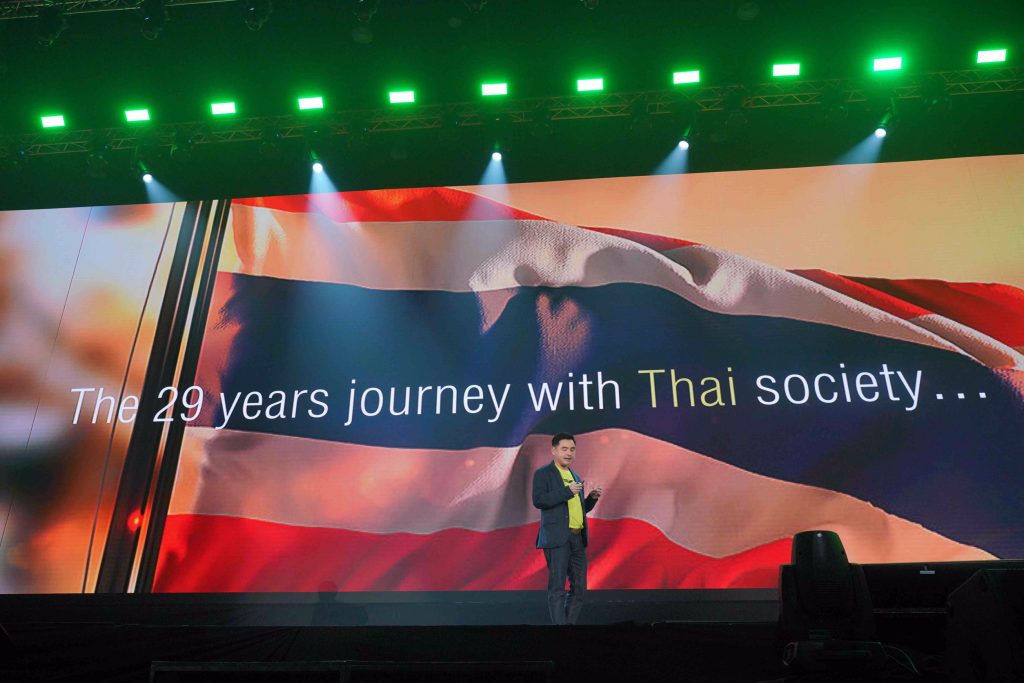 CityNews – 3 October 2019 After servicing Thai community for 29 years, AIS takes pride in keeping its promise "With You Always." For the last three decades, the leading digital life service provider has been contributing to Thailand's leap of quality in telecommunication network as well as the living quality of Thai people. Now in its 30th year, AIS continues to excel its empowerment, bridging Thai people and the best of future technology. Every AIS staff promises from their hearts to constantly deliver service excellence to AIS customers and all Thais as always.
As a token of appreciation, AIS is offering special privileges to all 42 million customers via "AIS Points Program." Every customer will receive "double bonus." First, earn AIS points instantly. How many points a customer will receive depends on how long he uses AIS service. A maximum of 90 points will be issued. Second, redeem one AIS point to get discount or privilege on food and dessert over 1,918 brands / 27,000 shops across the country where AIS points are applicable. This offer is valid until October 31, 2019.
Join AIS campaign "Mission Green 2020" to become environmentally friendly. Help us save the world by bringing your broken earphone, AC adapter, Bluetooth, power bank, and old mobile phone to AIS shops near you or at shopping centers in partnership with Central Group. AIS is preparing E-Waste bins equipped with IoT technology (Internet of Things) to collect electronic wastes and dispose them properly. Join us to reduce CO2 (carbon dioxide) targeted at one million kgCO2e and eliminate electronic wastes at a minimum of 100,000 pieces by 2020.
Mr. Somchai Lertsutiwong, CEO of Advanced Info Service Public Limited Company or AIS, said, "AIS has completed its 29 years in business and is heading towards its 30th year. We take pride to be a part of Thailand's history the last three decades especially the constant growth of telecom industry contributing to the better quality of living of Thai people nationwide. Being no.1 in telecom industry is owing to our dedication to the relentless pursuit of creating innovative products and services for the benefits of society and the country. From analog to digital and 5G is just around the corner, Advanced Info Service always thinks "advance" to stay ahead of the competition.
Throughout 29 years, AIS has been investing more than one trillion baht in building foundation for Thailand's digital infrastructure. And we continue to play an important role in Thailand's economy to compete in the global market.
In celebrating AIS 29th anniversary, we want to expressing our gratitude to AIS customers as well as Thai people for their trust. More than 42 million customers of AIS mobile and AIS Fibre will receive a special gift from AIS Point program in collaboration with AIS partners from various industries.
As a corporate citizen, AIS takes on responsibility to restore and protect our world by initiating environment protection program. People's lifestyles have been affecting the nature immensely and, in return, affecting us too. Hence, AIS launches E-Waste project to raise awareness of electronic wastes surrounding us and to reduce CO2 as many as one million kgCO2e by 2020.
The world today is changing at a rapid rate as a result of digital disruption. Looking at this change as great opportunity, AIS takes a vow to be a key player in digital technology and innovation, driving Thailand forward to be in the international frontline. Is it very crucial that we must change the way we think and work to be resilient to digital disruption. AIS management as well as staff remains committed to providing the best digital ecosystem for our customers' satisfaction. And AIS will always be with Thai people and our society. Together, we can take on any challenges in the digital world."
Special gifts for AIS customers in celebration of AIS 30th Anniversary:
Receive AIS points especially prepared for over 42 million AIS and AIS Fibre customers. The longer you have been with AIS, the more points you will receive: 30 points for customers with less than 10 years, 60 points for customers with more than 10 years, and 90 points for customers with more than 20 years. Usually, customers get one AIS point for every use of 25 baht redeemable for discounts and privileges. AIS customers who had enrolled in AIS Point program before would have received complimentary points automatically. If you haven't enrolled, now is the right time by pressing *550*30# and press call button. This offer is valid until October 31, 2019.
Enjoy discounts and privileges at a variety of shops throughout Thailand. Available only in October. You can use AIS points to redeem at popular venues including restaurants and dessert shops, or get vouchers or coupons to redeem for discount of AIS products and services. More, you will have a chance to win gold worth 657,000 baht and Samsung Galaxy Note 10 Plus for 30 prizes worth 1,137,000 baht. Redemption is available from October 4 until 31, 2019. For more details, please log in www.ais.co.th, My AIS App, official line: AIS, official line: AIS Privileges. You can check your AIS point balance easily via my AIS application.
MISSION GREEN 2020: An E-Waste Project
Recently, more Thai people have paid attention to waste segregation and waste hazard to reduce improper discard and disposal. Electronic waste is vast and very close to us, yet few people are aware of its danger. Improper discard on electronic waste can affect environment and community in long run.
As a digital-life service provider involving in electronic devices, AIS is committed to educating people on the impacts of improper discard and disposal of electronic waste. Together with our partners, AIS will introduce proper E-Waste process to reduce electronic waste and save our environment. Anyone wanting to discard broken earphone, AC adapter, Bluetooth, power bank, or used mobile phone can drop it at E-Waste bins located at AIS shop and in shopping centers under Central Group management. All E-Waste items will be properly disposed using Zero Landfill process (waste disposal in which usable parts can be recycled). Soon, AIS will distribute E-Waste bins to universities across Thailand.
AIS E-Waste bin is made of recycled plywood designed by a team of students at Architecture Faculty, Rangsit University. In collaboration with AIAP (AIS Internet of Things Alliance Program), the E-Waste bin is capable of counting rubbish piece by piece in real-time and display CO2 conversion and reduction via www.ewastethailand.com
Starting October 1, AIS E-Waste bins will be available at 81 locations including AIS shops (in Bangkok and surrounding areas, and major cities across the country), and shopping centers under Central Group. More AIS E-Waste bins will be placed in leading universities soon. For more convenience, AIS is conducting logistic study to pick up E-Waste at homes and deliver them to partners specializing in waste disposal. Allowance earned from E-Waste will be donated to charities. E-Waste statistics can be viewed at www.ewastethailand.com.
Looking into customer services to be more environmentally friendly, AIS is switching from plastic drinking bottles to paper cup and water dispenser. AIS management has provided an educational program on environmental conservation for AIS employees and asked for their cooperation to adapt their lifestyles to protect the environment. Our goal is to reduce one million kgCO2e of CO2 and process 100,000 pieces of E-Waste by 2020.