Whilst Amazon Coffee made a great deal years ago to have a branch in every gas station nationwide, other coffee chains are focusing on cities in the hope to become a known local cafe.
Despite Chaing Mai overflowing with independent cafes, the Thai coffee chains are attempting to conquer the kingdom seem to be copying the Starbucks plan of market domination (put a coffee shop on every corner, individual shops may lose customers to other locations but Starbucks as a whole is making money).
You see Wawee everywhere. It's homogeneous, clean and the Thai version of a successful coffee chain and my bet is that you have visited one, once. It's a good fall back cafe when coffee is needed. Also on offer are Pangkhon, Doi Chaang (which is actually a franchise) and the new international brands which you'll be seeing more of – Tom'n'Tom (Korea) and Coffee Club (Australia). However somewhat off the farang radar is MingMitr: a local favourite for Thais in Chiang Mai.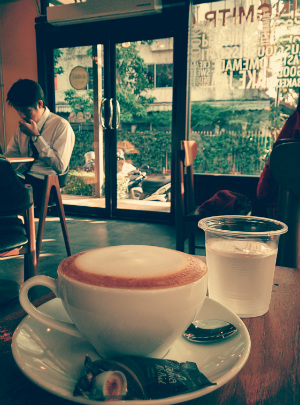 Coffee – The coffee here is good and the hot drinks are better than the iced versions. The good thing about MingMitr (and the rest of the chain cafes) is that you are guaranteed a good cup of coffee, comfortable cafe, air conditioning and wifi. For working online or meeting friends MingMitr is a good place, but it lacks that special element that other cafes provide in Chiang Mai. Perhaps this is why the independent coffee shops are not drowning underneath the flood of chains.
Cafe – Look for the brown and yellow umbrellas and sign (sometimes in Thai). Standard comfortable cafes, friendly staff with varying busyness, Sirimangklajarn road branch is full all day where as the North gate branch relatively empty except for the constant stream of cars turning up for takeaways. Cheap and tasty snacks!
Other – Google translates their motto "?" as "Drink of the masses friendly" And that pretty much sums MingMitr up!
Open: Daily 7:00 – 17:00
Cost: 40 – 80Baht
Locations: Sirimangklajarn Rd, Next to North Gate Jazz Bar, selected Rimping supermarkets, Chiang Moi, Lanna hospital, Faham and more!
Website: MingMitrcoffee.com