As a Canadian, I am naturally a big fan of hockey. Call it a stereotype, but there's always some truth to them. We"re the nicest people in the world, but if we suffer a heart-breaking hockey loss – as we did in 2011 after losing to Boston in the Stanley Cup play-offs – then we'll turn violent in about as much time as you can say "poutine."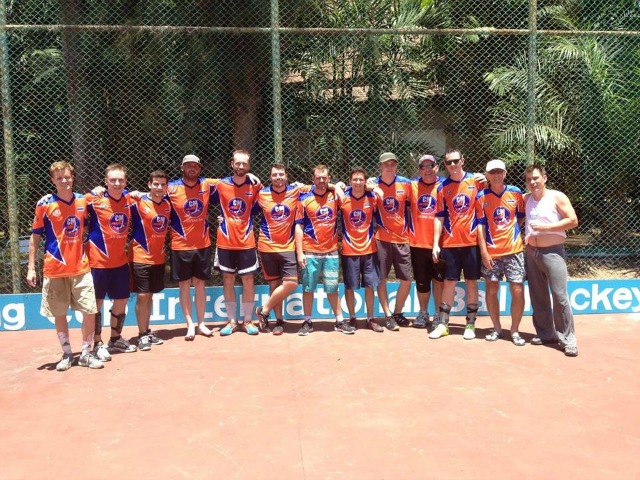 Photo: The Chiang Mai Highlanders.
I'm something of an anomaly, a Canadian who can't ice-skate. Therefore, I've naturally gravitated towards ball hockey – it's the same as "normal" hockey, but without the ice. Most leagues have their own house rules.
When I arrived in Chiang Mai, one of my first searches, on a complete whim, was for a ball hockey league. And lo and behold, there is group of expats who have made a name for themselves, the Chiang Mai Highlanders. They started off three years ago with only a "couple of guys", according to Finnish expat founder Ozzi Jarvinen. They now have 12-15 regulars, including a few of my fellow Canadians.
"I remember playing two-against-two and with one goalie. Slowly we started to get more players, and in January 2013 we hosted our first game in Chiang Mai against the Bangkok team. By then we had enough players for two teams," Ozzi said.
Ice hockey will never reach the popularity of football. The cost of buying and maintaining the equipment is too high, so only a small number of locals have ever played the sport. Ball hockey is a good alternative, however. All you need is a good set of running shoes and a stick, which is provided. I asked Ozzi what he would recommend to a local if he wanted to try the sport.
"Even though it's a gentleman's game, it can get a little physical so I would suggest to come and have a look first and see if you would like it," he said. "It's very different from football (soccer) and it's quite normal that players get pushed around, and we don't take that too seriously. Stick handling would be something to learn."
The Highlanders transcend the sport – joining them for a practice game is a good way to meet new people and make friends. I quickly noticed after I arrived how everyone was on a first-name basis, and there was even talk about a group trip to Mae Ngat Dam. The hockey is what brings them in, but the camaraderie is what keeps them coming back.
When I arrived at Futsal Heaven, just off Canal Road, where the team plays, I was greeted by Ozzi and was soon was on the court with a stick and ball. Two hours of gruelling exercise in stifling humidity followed.
"This is actually one of the cooler nights," Ozzi told me during the game after seeing me drenched with sweat and doubling over with exhaustion.
I was beginning to get a sense of the differences and similarities between playing the sport back home and here. The passion and intensity was even higher than I was accustomed to for a recreational game of ball hockey, signalling the importance – for me, anyway – of taking Canada's pride-and-joy sport seriously while so far from home. The passion for the game was heightened by the sense that we were preserving our precious favourite pastime.
I asked Ozzi how the weather affects the way the game is played here in Chiang Mai.
"The heat affects the balls and they get a bit soft here, so we need to make sure the balls can handle the heat. About 90 percent of the balls we have currently are not good enough for playing, so only one in 10 stays hard enough," he said.
Screams, shouts and instructions are belted out as the game continues, and there are scrambles in front of the net, shoves, chases and falls. My team was down by a few goals, and the frustration was bellowing out of the mouths of my sweaty teammates.
Desperate to show that my physique could hold up to the brawny bodies of my opponents, I received a beautiful pass and scored with my ensuing shot under the goalie's pads. It was eventually all for nought, as our team lost 11-7 in quite possibly the most intense and exhausting game of ball hockey I have ever played.
As I left, I said my farewells and mentally prepared myself for the aches my body would feel the next day. I also came away with an appreciation for the guys I had played with. The challenges of the frequent rain, humidity and heat have not softened their love for hockey, but only made them more adamant in their resolve to continue playing.'