Continuing with the work space cafe theme, this weeks review is CAMP: the workspace to challenge all cafes and coworking spaces in Chiang Mai.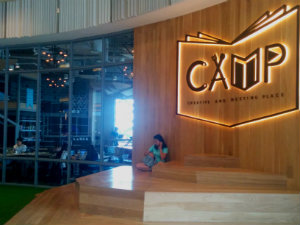 After waiting patiently through all the dust and noise the costuction of Maya caused we were finally left (or rewarded) with another shopping mall. Smaller, better designed and with some interesting shops and a cinema Maya seems like a useful addition to Chiang mai (unlike promenada or festival)!  To top its usefulness off is the giant work space / hangout that is CAMP.
Concept – the 3rd space that isn't home or work /school CAMP offers you a living room to kick off your shoes and lounge around. It also offers plugs and tables to stare at your screens.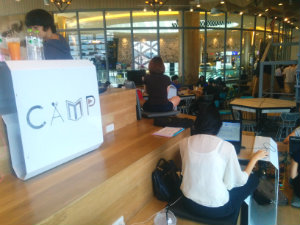 Coffee – the coffee here tastes bitter and the taste is covered by sugar and industrial milk. The only reason to buy is is to get a WiFi code ( but you can also get that with tea or a can of coke). The good thing about CAMP is that you can smuggle your own coffee in (this is recommended and Ristretto is not that far away)!
Cafe– this place easily holds a few hundred people and is now quite busy. There is a mix of farang who seem to be working online, Thais reading, working or gossiping and the high school students giggling and fondling in hidden corners. This place seems like a free for all mish mash of work, play and loaf around.
Other – there is WiFi but a purchase needs to be made. The 2 hour cut off is annoying! You can also try to hook up to the Maya mall WiFi. A speed test puts camp WiFi speeds at:
ping 6ms
Download 5.11mps
upload 1.60mps
There are lots of seats here and most people pace around to find somewhere comfortable. Personally there is too much choice so go to the tree house hideaway if possible.
It's a little but disconcerting how many people are sitting here looking at screens (myself included) and noise comes from the him of industrial air con, mall noises and the occasional cough. It kind of feels like being in one of those futuristic movies…. but with a great view of Doi Suthep on the Maya balcony!
Cost: 55- 95 BahtOpen: 24 hoursLocation: Maya mall. The intersection of Nimman, superhighway and Huey Kaew road.
More co-working spaces can be found here as well as if cafe or co-working space would suit you better?
Stay tuned for part 3 of working cafes….