Key Chiang Mai Canal Under Threat due to Superhighway Expansion
CityNews – A historic and major canal in Chiang Mai is facing the end of its history due to a superhighway expansion project, which will see the canal paved over with concrete. The canal is about 1.6km long and runs from the Rin Kham intersection to the Khuang Singh tunnel.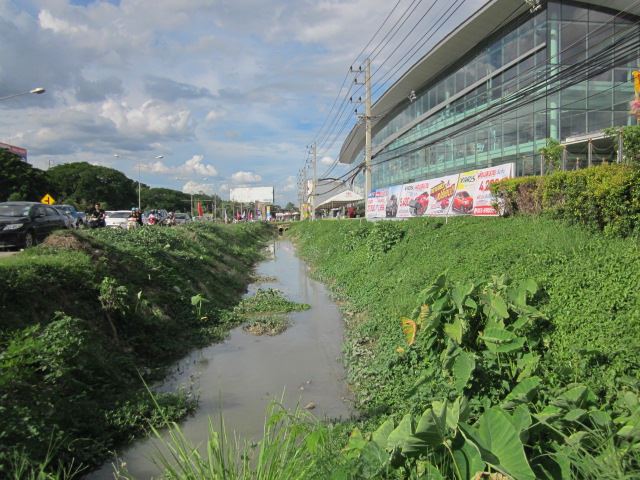 After work began on the superhighway expansion, the issue was brought to public attention by Assoc Prof Dr Wasan Jompakdee, the President of Committee for Protection of Mae Ping and environment who posted to Facebook on June 26th pointing out the plans to pave over the canal along with photos of the work already starting.
The current plan will see the canal replaced by large concrete pipes that will run under the paved road above it, making way for two more lanes along the already contested road.
According to Dr Wasan, the canal which is just 5-6m in width is considered one of the seven key Mae Kha canal water sources, along with the Huay Kaew stream and the Chiang Kian stream that direct water from Doi Suthep Mountain and converge with the threatened canal at the Rim Kham junction. The canal then continues to the Kuang Singh Underpass where it joins with the Mae Kha Canal near the Lanna Hospital.
Dr Wasan said that burying the canal will turn it into a sewer, with people disposing waste into it that will run into the Mae Kha canal, and also increase the risk of flooding in the area.
A meeting was held between Dr Wasan and Chiang Mai Highway District 2 Office that was open to public participation, which concluded on allowing 300m of the canal remain open air, with the remaining 1,300m yet to discuss at a later date.
A news article featuring images, videos and an interview with Dr Wasan in Thai can be found here, on the The North Degree Facebook page.