Chiang Mai Sixes Finale sees NCL Dynamites winning the Cup
CityNews – Day 6 of the Chiang Mai Sixes saw many surprises while the seventh day ended with NCL Dynamites won the Cup.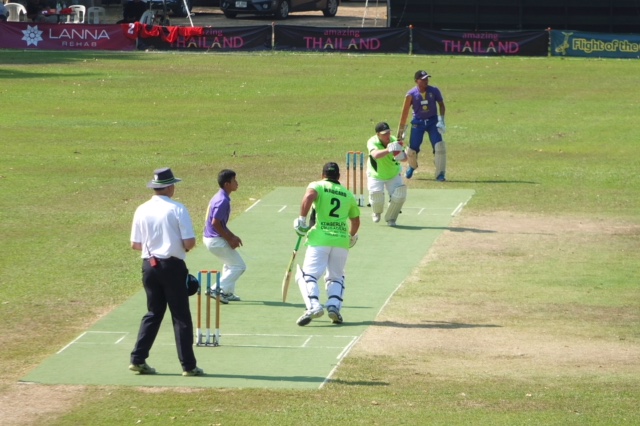 Day 6
In the cup Bristol CC (57-2) were knocked out by Kashmir CC (59-0), with last years' player of the competition Abaid hitting 30 off 6 balls. Veteran side the Divine Felons (35-3) were also knocked by local side the UN Irish (35-0), who chased down the total posted in just 2 overs.
In the Shield the Lords Taverners (69-0) were heavily defeated by Got the Runs (73-0) from Australia, with Steven Devenish hitting 34 off 9 balls.
In the Bowl the Roosters (66-2) defeated the Armadillos (42-2), meaning that the Armadillos have now been eliminated despite defeating qualifying group winners local team Lanna CC.
In the Plate local favorites Thai Thevada (62-1) were knocked out of the completion after failing to chase the 65 posted by Applecross CC, with Damian O'Har hitting 33 from 13 balls and bowling a stunning final over for just 6 runs.
Day 7
It was like old times at the Chiang Mai Sixes as Bangladesh side NCL Dynamites won the Cup by beating Australian team St Francis de Sales by six wickets in the final. The two sides were clearly the best two combinations in the tournament but it was Mehedi Maruf who proved the difference. Having already hit 30 in the semi-final against Kashmir Thunder, he repeated the feat later in the day to be named Player of the Finals. A busy day was not even put off course by heavy rain which delayed proceedings for an hour as a total of seven finals were decided. Central Spirit defeated Varee Thai Angels to win the Ladies Cup, while Ios Malakas beat Red Lion Wombats to win the Spoon, Drifters overcame Applecross to win the Plate, Lanna beat Roosters to win the Bowl, Got the Runs defeated Yorkshire Puddings to win the Shield and the day finished with Awali beating Summer Saints to win the Vase.