Chiang Mai Bike Festival to Highlight Pedal Power
CityNews – Cyclists are gearing up for the Chiang Mai Bike Festival, which will take place from December 5-7.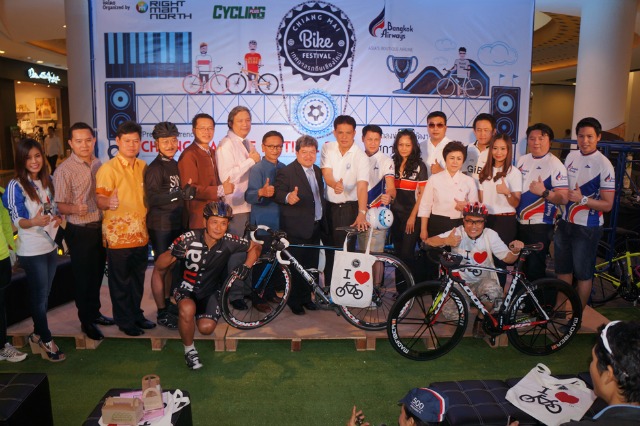 A press conference to promote the event was held at Central Festival yesterday.
The event will be held in the grounds of the Chiang Mai University Arts Centre in Nimmanhaemin Road.
The festival will include workshops, seminars, an exhibition on bicycle history, vintage bikes, the Chiang Mai Classic Race, bicycle and accessory sales with 80 stalls including new bikes, a cyclist fashion zone, bicycling movies in the garden and more than 50 food and beverage stalls.
As it coincides with HM the King's birthday, there will also be a 'Ride for Our King'. Bands and musicians including Tattoo Colour, Byrd Heart, Del Ritmo and Mahasamran Banburi are lined up for concerts during the festival.
The first Chiang Mai Classic race will be held on December 7. It starts at 9am and there are six road bike categories, nine mountain bike categories and overall category for the 36km course.
The festival is organised by Right Man North and the aim is to encourage cycling and promote Chiang Mai as a green city. Call 053 441208 for more information.
Cycling is a popular hobby in Chiang Mai. For more information, check out our story in a recent edition of Chiang Mai Citylife.