Tarte Bourdaloue by Chez Nous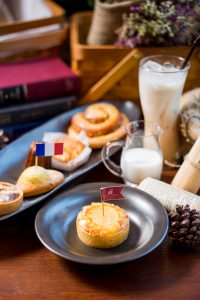 As you walk into Chez Nous, the smell of freshly baked goods fill your nostrils as the chef works tirelessly in the kitchen kneading, proving, rolling and baking a range of top quality traditional French pastries. Slowly piping almond cream into a tart, Chef James begins to explain what goes into their most beloved Tarte Bourdaloue – a customer favourite.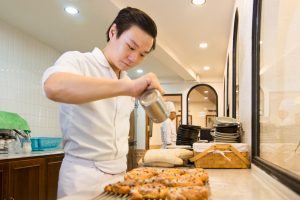 The tarte base is baked blind before it is taken out, cooled and then filled with almond cream, made fresh with sugar, eggs, almonds, flour and butter. Once all the corners are packed with this lush thick cream, a syrup drenched pear half is placed on top to seal in the cream, and fresh almond flakes are added for decoration. The tart goes into the oven and once the sweet smell of buttery almond begins to emerge, it is done and ready to serve. Best served straight from the oven, this tart is a perfect treat for anyone with a passion for almond and French pastry, just like the former pastry chef de partie at Le cordon bleu. We recommend pairing it with a delicate brew of afternoon tea as you sit and enjoy the light, bright and warming atmosphere of Chez Nous, with its big windows, cozy colour décor and quaint background music to really set the scene.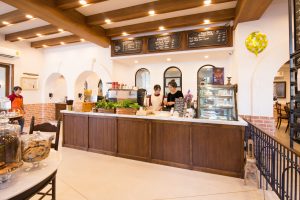 Chez Nous Open 9am – 5.30pm (Closed Wednesdays) 118/5 Moo 3, Old Sankhampeng Road, T. Sanklang Tel. 094 663 8855 Facebook: Cheznousbakingatelier