Summer Calling at Oxygen Dining Room
by Chef Alexandre Demard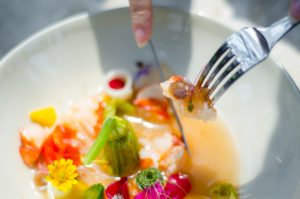 The summer is an exciting time for our city's chefs, as the season produces colourful and vibrant vegetables and fruits, something which seems to send shivers of excitement up and down Chef Alexandre Demard as he talks about his regular farm visits and his journey of discovery of Chiang Mai's produce.
"My inspiration is to forage and find great produce and use them in interesting combinations to produce exciting dishes which tell a story," explained Demard.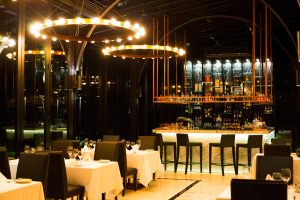 So if you haven't made it to this Michelin starred-helmed restaurant yet, just think about the tastes of these dishes and book your table: start off with the Chiang Mai caprese, a light starter with fresh vegetables marinated in basil, tumeric and local cheeses turned into an ice cream and served with goat cheese and fresh tomatoes, then head into the main course of zucchini flowers with lobster, a kaleidoscopic garden on a plate which is as rich in flavours as it is in hues, and make sure you leave room for the banana tea with sapodilla sorbet, an aromatic dish of caramelised banana served with tea jelly and an intriguing sorbet of a little known seasonal fruit – the sapodilla.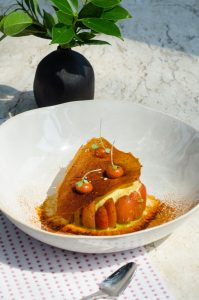 Chiang Mai caprese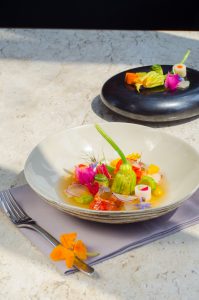 zucchini flowers with lobster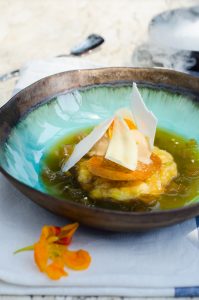 banana tea with sapodilla sorbet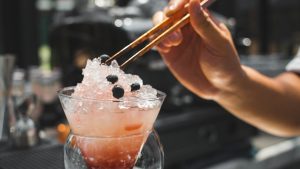 Bramble cocktail X2 Chiang Mai Riverside Resort Oxygen Dining Room 369/1 Charoenrat Road, T. Wat Gate, Muang Chiang Mai 50000 Open 11.30am – 2.30pm and 6 – 10pm Tel. 053 931 999 www.x2resorts.com