Salad Hut By Healthy Meal Box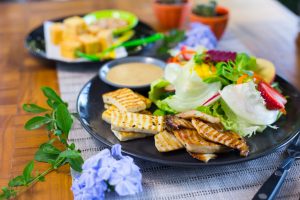 With humble beginnings as suppliers of boxed sets of clean food, these salad lovers have now expanded into a little restaurant set in a homey venue.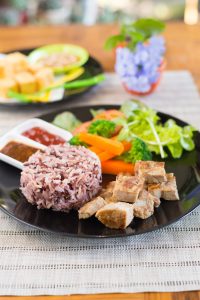 It is all about health with the folks at Salad Hut and you will be spoilt for choice if
you are into fresh, clean, organic and healthy dishes. Their top hit dish is the salad of grilled tofu and mushroom which is both filling and surprisingly bursting with flavour as the aromas of the grilled mushrooms complement the creamy texture of the tofu. There is a choice of salad dressings from creamy Caesar to roasted sesame and carrot-apple cider vinegar. If you are looking for something a bit more filing, then give the grilled pork with rice a go or the salad with grilled chicken. End your super healthy feast with a carrot cake and a scoop of homemade ice creams.
Salad Hut by Healthy Meal Box
Ban Phae Road, T. Chang Phuek
Open 12 – 7pm (Closed Sundays)
Tel. 085 706 0748
Facebook : Salad Hut Chiangmai , Healthy mealbox