Rosy-Cheeks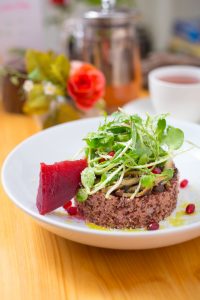 Rosy Cheeks is one of the city's most talked about healthy food joints that doesn't skimp on great flavours. Their fusion menu was inspired by the Chef and Owner's, Kittitach Krajangkaew or Fuji, time abroad. Focusing on clean, organic ingredients, and pairing those with some amazing sauces and flavours, many of which have a distinctive Japanese influence.
Their fresh spring rolls filled with wakame seaweed with spicy mashed avocado and peanut butter sauce on top is a favourite for many, and can be perfectly paired with a side of bruschetta topped with grilled eggplant, tomato, toasted corn, black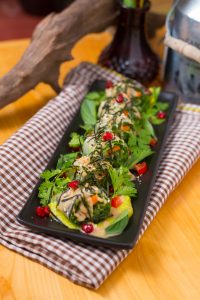 beans, cucumber and topped with a balsamic reduction. This food is healthy, but if there are elements that incorporate butter, sugar or sauce, then they aren't shy at combining the two to bring in some amazing flavours. Another dish worth trying is the beetroot quinoa risotto served with seared mushrooms, pickled beetroot salad and parmesan cheese, which pairs perfectly with a roasted organic brown rice tea.
Rosy-Cheeks
Open 11.30am – 3pm and 5 – 9pm (Closed Sundays)
52/2 Soi 3, Suthep Road
094 842 0197
Facebook: rosycheekschiangmai