Afternoon Tea at Chala Number 6
There is a new boutique hotel in town, and it is enviably located right opposite Wat Chedi Luang, with a charming outdoors café offering prime temple-views. But walk inside the hotel into its sanctuary of a courtyard and you will find an exquisitely crafted traditional rice barn, which is used to serve guests afternoon teas.
With both sweet and savoury delights, you can take in the contemporary Lanna hotel setting from the shade of the barn and sample a smorgasbord of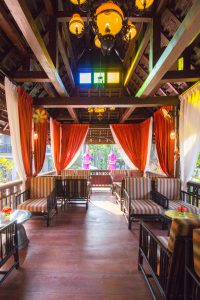 delectable Thai bites such as the melon steamed cake, the bananas with sticky rice, Thai sweet tapioca pudding, delicious imitation fruits, layered kanom chan, deep fried unripe rice and grated coonut banana rolls as well as the more famous mango and sticky rice. Not a tea for Earl Greys and cucumber sandwiches, you can enjoy a selection of herbal drinks, freshly made each day such as lemon grass water, roselle juice, butterfly pea juice with lime and ginger juice, all of which are not only refreshing and tasty, but come with numerous medicinal properties. Guests at Chala Number 6 can enjoy the afternoon tea for free while outside guests can come in for the experience for only 866 baht per two persons each day start 2pm onwards.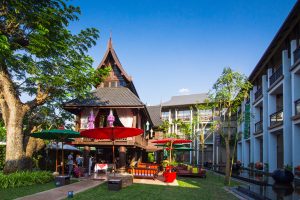 Chala Number 6 Prabokklao Road (Opposite Wat Chedi Luang) Afternoon tea start 2pm onwards. Tel. 052 010 466 Facebook: chalanumber6