Khao Soy Curried Egg Noodle Dish by Sarinya Sriyab, KuaKai NImman
It is believed that the famous khao soy curried egg noodle dish, originally came into Thailand and Myanmar as Chinese Muslims migrated south. The dish was initially of a clearer soup, but the coconut milk was added to suit Thai flavours at a later date. Like many national dishes, many households have their own version or twist to the recipe, and the family of Sarinya Sriyab, KuaKai NImman's owner, is no different.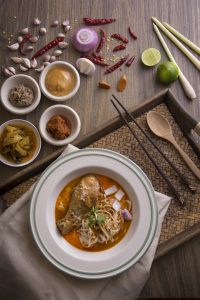 "My grandmother taught my mother who in turn taught me and the secret to our family's khao soy recipe is in the curry paste and the noodles, both of which we make from scratch," said Sarinya, whose restaurant was made famous for its sizzling chicken noodle dish, but has now expanded to include many other dishes including the family khao soy. "We pound the fresh ingredients together – shallots, chilli, garlic, kaffir lime leaves, etc. – and then fry it all in coconut milk, which releases wonderful aromas. The meat is added later, and topped up with the coconut cream, which really helps to break down the meat to great tenderness. The noodles are also handmade about 2-3 days before serving."
Apart from khao soy with chicken drumsticks, you can also sample the beef khao soy, which uses Chinese herbs to cook the meat until it falls off the bone.
Sarinya Sriyab, KuaKai NImman
9-9/1 Soi Sai Nam Phueng, Siri Mangkalajarn Rd. T. Su Thep
Open 9am – 9pm
Tel. 082 180 1177, 053 218 278
Facebook: คั่วไก่ นิมมาน kuakai nimman