Torch Ginger Salad by Anna Farm & Eatery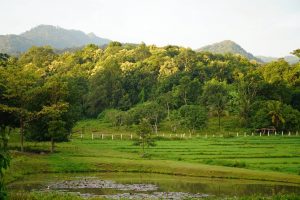 This lovely farm set on a hillock overlooking paddy fields serves up an assortment of unique and healthy dishes. Surrounded by nature, this is a lovely spot for lunch or to while away a few casual hours with some great dishes.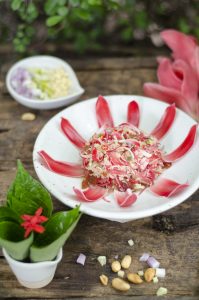 Their signature dish is the torch ginger salad, using the torch ginger grown on the farm which is full of great health properties, especially for the digestive system. This torch ginger is tossed into a herbal mix of roasted coconut, homegrown chili and lemongrass. Add some crunchy and sweet pork, add some slices of shallots, ginger, lime and peanuts and you simply wrap it up into a perfect bite. There are many other dishes using intriguing plants and parts of plants from the pollens to petals, stalks to roots and you can enjoy them all while being surrounded by a kaleidoscopic array of flowers and vegetables.;
Sometimes you just need more of a good thing, so why not check into the Ramrimna Private Pool Villas & Organic Farm and spend your day gazing at the paddy fields, or even joining in the fun and learn how to harvest or plant rice. At the end of the harvest season they will even send you a packet of rice you planted yourself!
Anna Farm & Eatery
60 Moo.12 T.Mae Raem A.Mae rim
Open 10am – 8pm
Tel. 091 858 8686 , 0903173781, 0613486478
Facebook: annafarmandeatery