Food has so many meanings for so many people. It can stand on its own, it can be part of an experience, it can take you on a journey, it can challenge and surprise, and sometimes it is just pure comfort for the soul.
If ambiance is just as important to you as deliciousness, then Daddy's Antique should be your next food destination. The café and restaurant is lovingly decorated with no pretention whatsoever. Whether you wish to sit in a bright and airy high-ceiling dining area surrounded by objet d'arts, collectables and freshly cut vases of flowers, in the lush tropical gardens with dripping ferns or in the chilled café area, Daddy's Antique wants you to feel at home.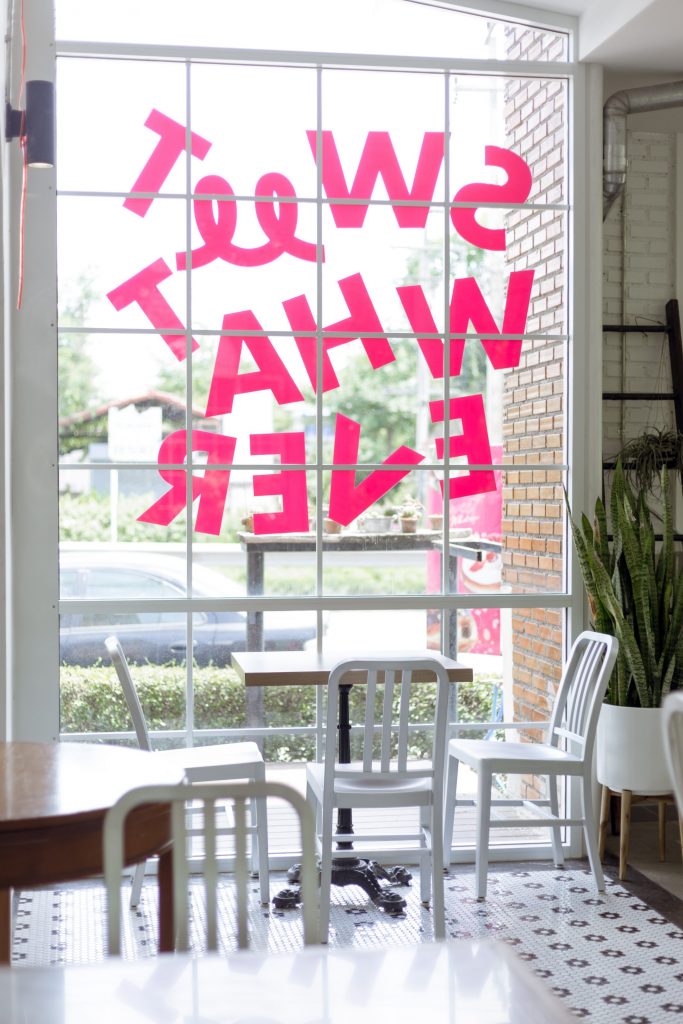 Their food is proudly proclaimed as comfort food, which isn't to be mistaken with anything less than the impeccably prepared and delicious dishes which arrive on your table. Every step of the process is overseen by the restaurant's owner and chefs, from visiting the sources of the produce, to making all the sauces, pastas and marinades in house – there are no shortcuts here.
Now fans of Daddy's Antique have another reason to visit as they have just opened their charming little donut hut, Sweet Whatever. The pretty pink display case entices with its row upon rows of donuts, aromas beckoning.
Owner Nath Deeananlarp told us that he felt nostalgia for his days living in Seattle when aromas of freshly baked goods would waft onto the streets, so he decided to make his mini-version of his American experience. "I associate donuts with skiing during my times living abroad, which was most of my life. The people of Seattle in particular are just so friendly and nice and warm and welcoming and Seattle is famous for its sour dough donut, so this is my homage to my time there and the people I met," said Nath. "Even my advisor for Sweet Whatever is from Seattle and shares similar memories." Nath has gone all-out with his nostalgia and also serves American-style donut, milkshake and ice cream."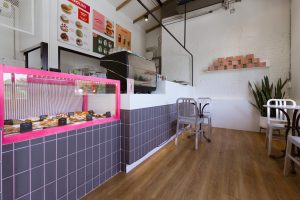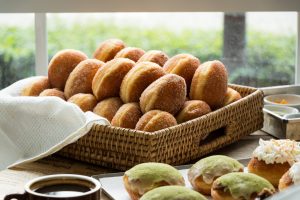 These are not common donuts we have seen around our part of the world, but in fact called Pączki, deep-fried pieces of dough filled with confiture or other sweet goodies. Each donut takes about three days to perfect. Fifty year old yeast cultivated and brought in from Europe is used in a French pain recipe in a 72 hour process which requires skills and patience.
"We use sourdough and natural yeast which is chemical free and really good for digestion, it's flavour also undercuts some of the sweetness to a fine balance," explained Nath. "There is a crunch on the outside, softness in the inside and the filling is always of the highest quality, if you choose strawberry, you will bite into real strawberries."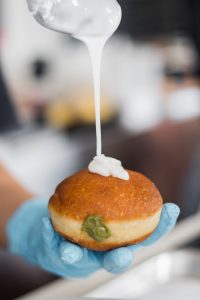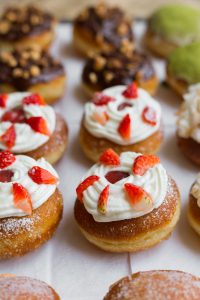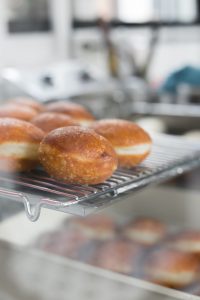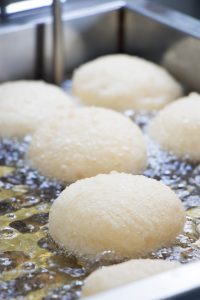 Glazed & Infused
Original
A classic round sourdough donut sprinkled with sugar and cinnamon powder
Strawberry Shortcake
Fresh strawberry jam with Italian basil donut topped with whipped cream and fresh strawberries
Messy Chocolate
Oozing creamy 70% chocolate from its core, the donut is coated in chocolate glaze and hazelnut candy with sprinkles of chocolate truffles
Vanilla Mascarpone
Italian mascarpone with vanilla aromas topped with marmalade and slithers of orange peel for a bit of tartness
Coconut Soft Cream
Filled with cream of coconut and fresh coconut and topped with whipped cream, white chocolate and roasted coconuts for crunch
Blueberry Cheese Cake
Fresh blueberry jam topped with cream cheese and crispy almonds
Kyoto Matcha
Imported green tea matcha filling topped with icing
Thai Tea
Authentic tastes and aromas of a traditional Thai tea
Milkshake and Ice cream:
American-style milkshakes with homemade ice cream. Try the Mango Yuzu Milkshake of vanilla ice cream mixed with red mango with pops of yuzu jelly.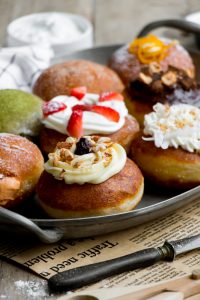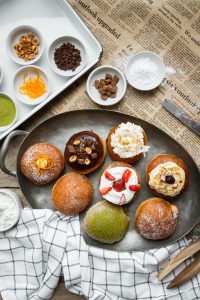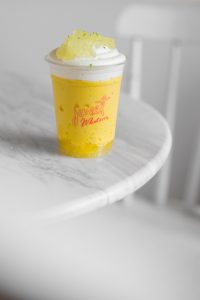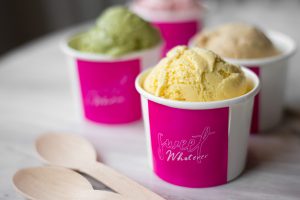 Sweet Whatever
45/8 Moo.1, T.Mae Hea
Open every day 11am-5pm
(doughnuts frying at 11am – 2pm)
Facebook: sweetwhateverchiangmai
Tel. 094 764 1441