'In praise of the wondrous beauty of nature' is the tag line seen on Cuisine de Garden's menu. And frankly, with what is delivered on each and every plate, it's good to know where all the inspiration all come from for such a creative and inventive restaurant.
Serving Chiang Mai's only nature inspire cuisine, this restaurant has won awards and drawn the crowds for years. If you have been more often than a few times, then you may have already eaten the entire menu, so it is quite exciting to see that the chef has now created a new 15 course menu for only 1,590 baht.
Small, but delightful dishes such as the clay-baked seasonal mushrooms with local freshly made tofu, mushroom dashi and green water melon, or the roselle nitro foam, will wow and amuse your bouche. So at this price, what are you waiting for?
Clay Bake Seasonal Mushroom w/ Local Fresh Made Tofu, Mushroom Dashi & Green Water Meal 
Nitro Foam
Nitro Foam
Brioche Leaves Fermented Mushroom Creamcheese
Buttermilk Sphere w/Finger Lime Cavier
Duo River Fish Bonbon w/Toasted Black Rice & Acacia Leaves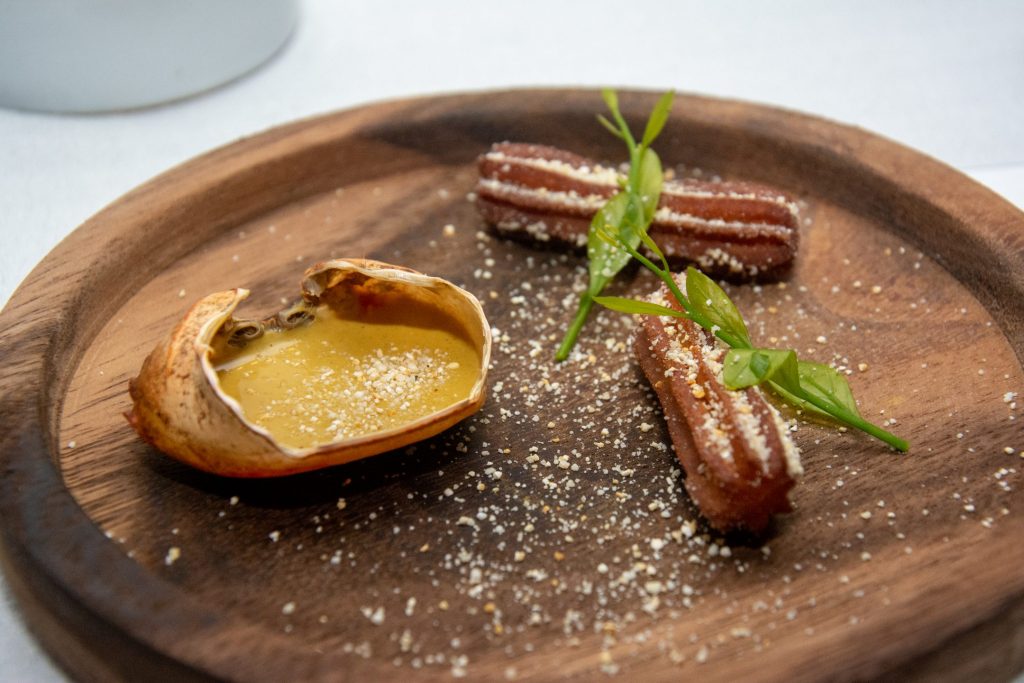 Toased Rice & Miso Churros w/Field Crab Oil Dip
Surathanee Farm Sweet Shrimp w/Shrim Oil Paste, Picked Cucumber & Chive Pesto
Smoked Royal Project Sweet Corn Cappuccino w/Smoked Corn Wafer & Cinnamon Powder
The nest Onzen Free Range Egg w/Crispy Rice Vermicelli,Oranic Chicken Fibre & Chicken Jus
Grilled Local Made Halloumi Cheese w/Fermented Gooseberry,
Gooseberry Jus & Dried Mountain Kale Powder
Pan Seared Organic Chicken Liver w/Pork Craking, Fermented Black Grape,
Spicy Grape Reduction & Vietnamese Coriander
Pan Seared In-House Smoked Trout w/Burnt Eggplant Puree Seasonal Local Cress,
Dehydreated Tomato & Green Herbs Oil
Goat Milk Pannacotta w/Dehydrated Milk Foam, Milk Snow,
Buckwheat, Bee Pollen, Honeycomb & Forest Honey
Housemade Chocolate Stone Coated w/Seasonal Juiced
Petit Four w/Herbs Tea
Cuisine de Garden
99 Moo 11, Nong Kwai Sub-District, Hang Dong District
Tel: 053 441 599, 081 774 1479
Open 11.30am – 2pm and 6pm – 10pm (Closed on Mondays)
Facebook: cuisinedegarden