It has been a great year at Shangri-La's Dhala Restaurant, with a parade of Michelin starred chefs flying in to set up pop up kitchens to wow us with their culinary skills. From Hong Kong to London, Rome to Paris, one and two stared chefs have delighted us and expanded our palates with world-class cuisine, all at friendly Chiang Mai prices.
Now that winter is here, Shangri-La is hosting their last, and certainly not least, guest chef of the year, Chef Pietro D'Agostino, head chef of one Michelin star restaurant La Capinera in the Bay of Taomina, Sicily.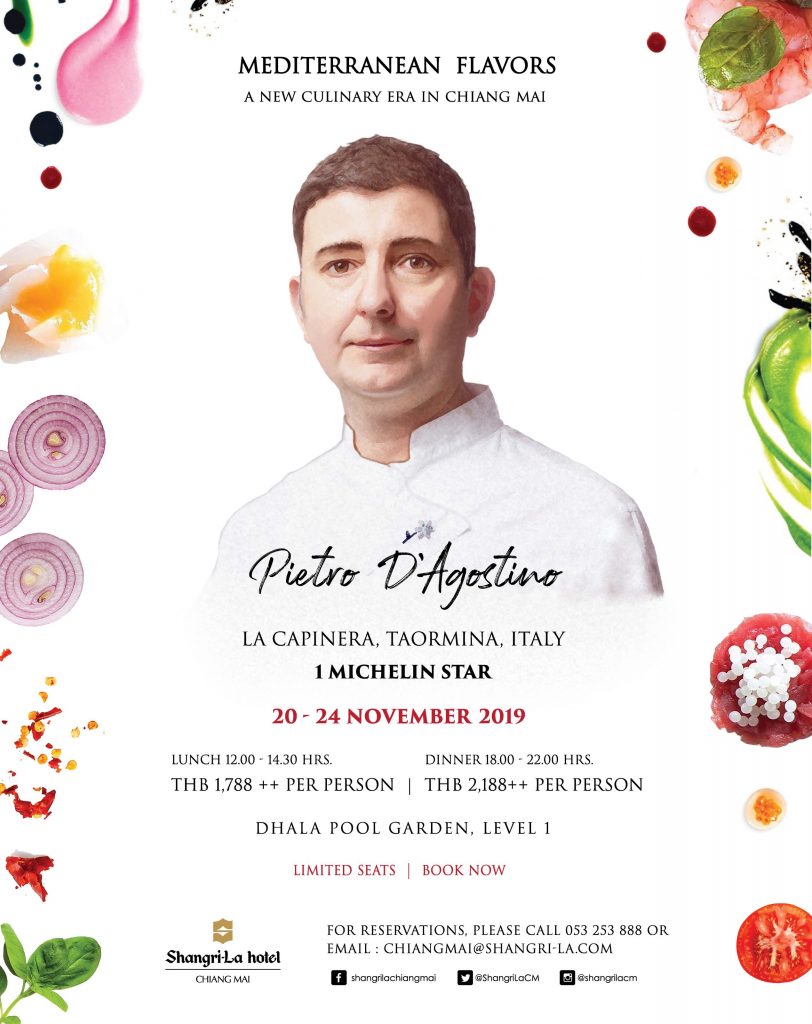 To make things even more special now that the evenings are cool, the restaurant has been relocated outdoors onto the overhead patio overlooking the resort's lovely gardens…all candle lit and lush.
"My food is a story of simplicity," explained Chef Pietro as we dipped our fresh breads into premium olive oil in anticipation of the meal to come. "Everything is very complex and hard to make. We create everything from scratch, but the end result is simple and elegant and each component very identifiable. I want you to really taste all of the flavours and experience the ingredients. Mediterranean food is all about the basil, the olive, the citrus, the fresh vegetables, the rosemary – you see here, we have pots of rosemary on the tables – and to serve food which you can keep eating and eating without feeling too filled."
We start the meal with a delightfully refreshing liquid caprese which has turned the traditional caprese onto its head. The cold cherry tomato soup is served with fresh buffalo mozzarella and a crunchy wafer-thin cannoli adds texture to this vibrant dish.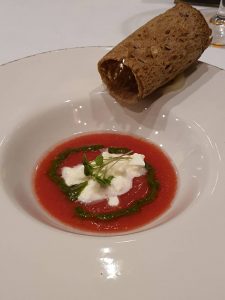 The next dish arrived like a fiesta on the plate. A large, sweet, succulent, and so fresh its firm to the bite, Sicilian red prawn arrives coated in roasted sesame for extra texture. The shiny glazed prawn sat on a bed of pine nut and ginger mayonnaise and was served with pickled red onions, a nod to the Arab cuisine which came to Sicily with the Moors in the 10th century. Bursts of colour add taste as well as whimsy to the plate as little drops of beetroot, wild fennel and saffron puree circles the prawn, this time a nod to the Spanish influence on the island.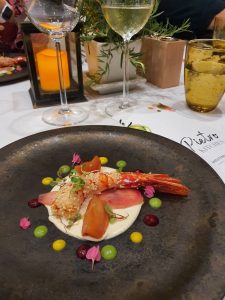 Next we get pure comfort food dressed up for a cocktail party. A delicate slither of a seabass filet is wrapped in crispy bacon and stuffed with porcini mushrooms and mashed potato; essentially a really tasty and complex croquette. Served with a yin and yang of verdant green broccoli and golden orange pumpkin ginger puree, the seabass is also rubbed in lard to add a hint of what the chef calls minerality as well as extra flavour.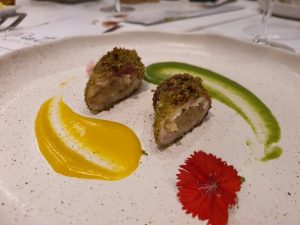 The next little dish is another one we wish we could have a tub of at home, as it is so morish. Two pretty little raviolis stuffed with grouper and wild fennel are served in a crab and prawn bisque which taste like it's just swam its way out of the Mediterranean. Black ink is painted onto the side of the plate for drama as well as an extra hint of the deep blue.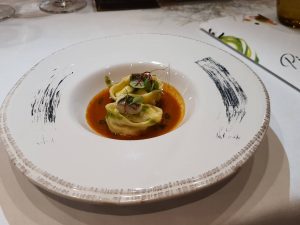 While the food has so far been generously portioned, we were ready for more and the next dish delivered in spades. Black Angus beef braised for 24 juicy hours in red wine, cinnamon and cocoa is served virtually falling off the fork with baby carrots, asparagus, in-season artichoke and a grilled cherry tomato. Each bite is sweet, succulent, moist, tender and juicy, the crunch of seasonal vegetables a perfect accompaniment.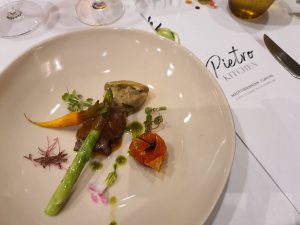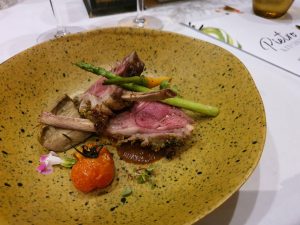 Finally pretty full, we await our dessert, and when it arrives, it doesn't last long on the table. Yet another of Chef Pietro's ability to serve what is such comforting food in such a fabulous and innovative way. Traditional Sicilian pasta dough cannelloni is stuffed with ricotta and served with a zesty orange sorbet. This could be street food at its best, but as appears to be Chef Pietro's style, complexity is layered into this, as it is in every dish, with the use of the spicy green tea powder and caramalised orange zest.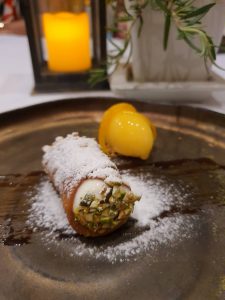 We sit back and take a couple of last bites of the marzipan and chilli chocolate praline, gulp down an espresso to keep us awake on the drive home and end the last Shangri-La's Michelin starred event of 2019 fully satisfied.