The Endless Fieldwork – a forty year attempt of participant observation in Asia
July 8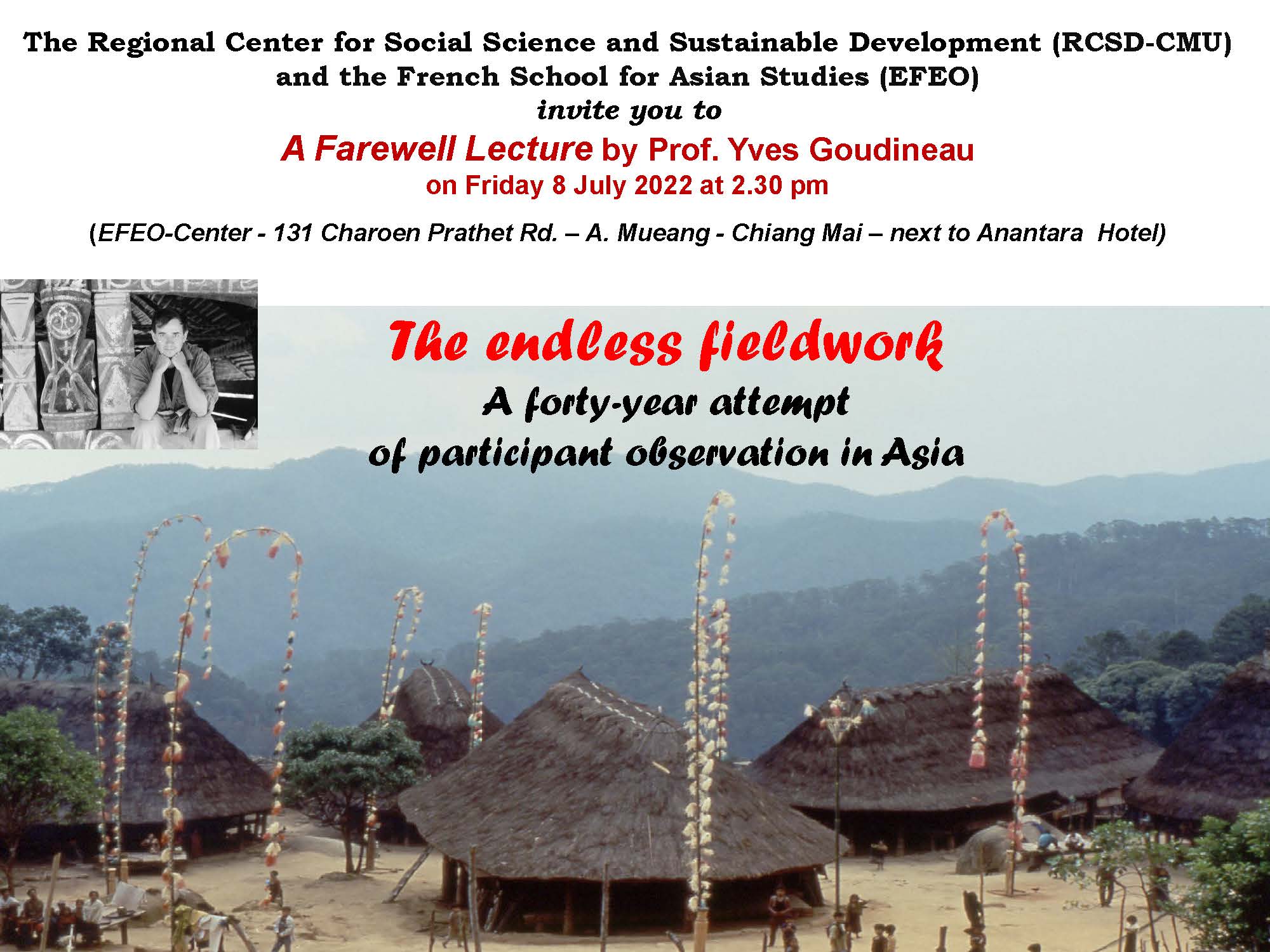 Friday, 8 July 2022, 2.30 pm, at the Library of the EFEO Centre, 131 Charoen Prathet Road, opposite the Alliance Française, between the Wat Chaimongkhon and the Anantara Chiang Mai Resort, Chiang Mai
A TALK & PRESENTATION BY
YVES GOUDINEAU, Director of the EFEO Chiang Mai Centre
"The Endless Fieldwork – a forty year attempt of participant observation in Asia"
 In this 'Farewell Lecture', Yves Goudineau will look back upon forty years of anthropological investigation and questioning in Asia. He will take us from his first attempts at fieldwork in post-Mao China on Hakka lineages in Guangdong, to surveys in the anthropology of development from Singapore to Sumatra and Java and, finally, to Central Vietnam and the scars of war. Then, he will share his long fieldwork since 1990 in the Annamese Cordillera among Austroasiatic ethnic groups of southern Laos (Kantou, Ta-Oï, Pacoh, Ngkriang…), observing their ritual revival and studying their ethno-history marked by colonization and war. 
Discussing his fieldwork, as an observer – at the risk of ethnocentrism – and also as an actor within local populations (academic, UNESCO consultant, etc.), Yves Goudineau offers an experienced critical perspective upon the nature and legitimacy of such research – between classical ethnography, new theoretical issues and the defense of endangered cultural identities
Having begun work in Asia in 1979 and served as Director of the École française d'Extrême-Orient (EFEO) from 2014 to 2018, Yves Goudineau is Professor (directeur d'études) in 'Comparative Anthropology of Southeast Asia'. He has been, since 2018, the head of the EFEO-Center in Chiang Mai and has coordinated with the University of Chiang Mai (CMU) two major European projects on the issue of 'Integration in Southeast Asia' (SEATIDE and CRISEA). He has carried out extensive ethnographic fieldwork in the Mekong Region and has been a regional consultant for UNESCO and UNDP.
 
In 2013, during his first appointment as director of the Chiang Mai EFEO center, he joined Louis Gabaude to offer the INTG a historical presentation of the EFEO's work in Asia and the establishment and development of the center in Chiang Mai. 
Event Details
Location:
Library of the EFEO Centre