TEDxChiangMai 2019 "Shake and shift – through the eyes of women"
September 7
With our 2019 event we explore how women's ideas and actions have the power to shake things up and shift perspectives.
"TEDxChiangMai 2019 will feature a line-up of inspiring speakers, workshops, and activities that call for meaningful change, help us find common ground, turn small ideas into big ones, and give a voice to those with ideas worth spreading.
While our talks and activities will be from both women and men and cater to a mixed audience, we look at everything through the eyes of women to gain a more inclusive understanding and start more diverse conversations. For this reason, the curations team is led by women. We are looking forward to sharing their selection of topics, activities, speakers, and performers, with a slightly different perspective.
At TEDxChiangMai we are making several other changes. We valued the support and partnership with the Le Meridien Chiang Mai Hotel. Our partnership since 2013 has included five large events and many smaller events. Now we feel we need to shake things up a bit. Our 2019 event will take place at the 'wow' venue of the Northern Science Park, set against the stunning backdrop of the mountains, just a few minutes South of Chiang Mai city.
Our female led curation team will select speakers, both male and female, presenting topics and ideas to challenge our audience. Our intentions for our event is to make it more inclusive, cozy and more local community focused, but we will maintain the diversity that TEDxChiangMai is known for. We want to make greater efforts in connecting with current and future issues important to our community.
The event will continue to be bilingual with a greater amount of tickets reserved for Chiang Mai residents and for those from the Northern provinces. We hope to have great partners and sponsors so that tickets can be more affordable for all.
We are also working with partners including the Chiang Mai University Science & Technology Park (STeP), CMU's School of Public Policy (SPP), Chiva Care Medical Clinic amongst others and will bring creative ideas and activities to our event.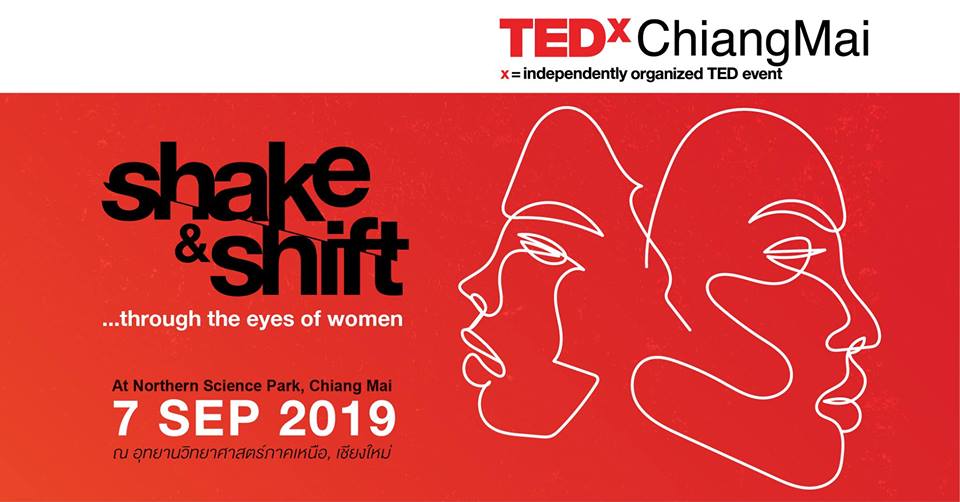 Event Details
Timing:
9.00 am - 6.30 pm
Location:
Northern Science Park