Tech & The City CNX #09: How can SpaceTech change the world? Talk & Meet-up at The Planet Cafe and Restaurant
June 1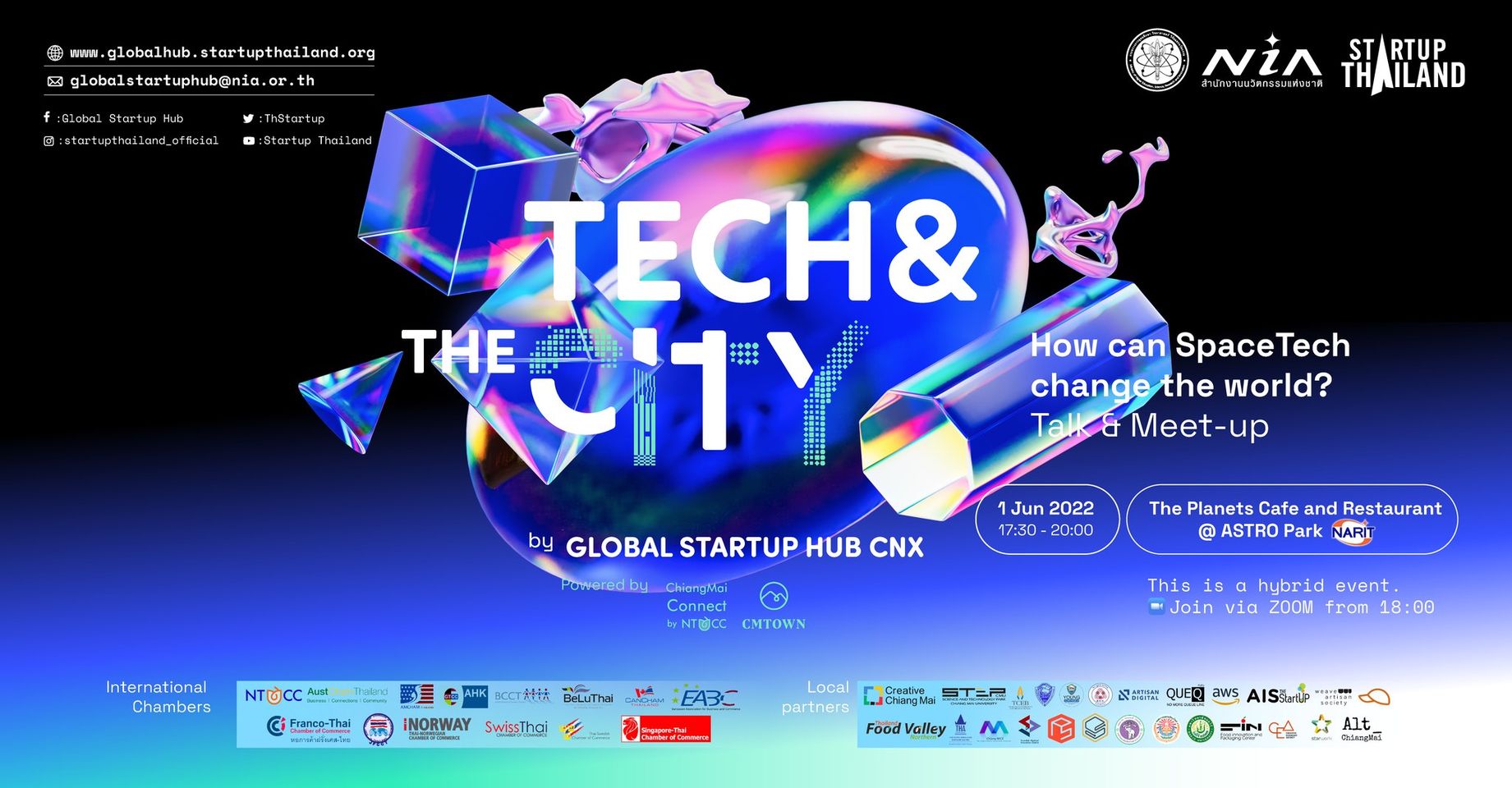 The cameras in our smartphones, WI-FI, LASIK surgery, memory foam in your pillows – it is mind-blowing to learn that all of this has been done via discoveries of Spacetech, a topic that seems far in the sky, but actually closer to our daily lives than we may imagine.
At the Astro Park of NARIT (National Astronomical Research Institute of Thailand), right here on Chiang Mai ground, Spacetech may be able to change your world. Thai entrepreneurs and incubation centers are breaking ground in the sphere.
Join us at ninth edition of Tech & The City by Global Startup Hub CNX, supported by NIA & Startup Thailand, powered by CM Town & Chiang Mai Connect by NTCC.
> Meet fellow startup founders and entrepreneurs from the tech ecosystem
> Find out how your respective businesses from different industries can enter the 'Spacetech' realm
> Learn how far local entrepreneurs have roamed in the spacetech sphere
> Connect with entrepreneurs & professionals from the tech eco-system and beyond – wide-ranging industries in the North – linking business groups from the international and local chambers of commerce, to the Federation of Thai Industries
Come connect on Wednesday 1st June, 17.30 hrs onwards at The Planet Cafe and Restaurant & Restaurant @ Astro Park.
Speakers:
> Dr. Saran Poshyachinda, Executive Director, NARIT สถาบันวิจัยดาราศาสตร์แห่งชาติ
> Dr. Phongsathorn Saisujarit, Acting Director, INSTED, KMUTNB
> Dr. Peerapong Torteeka, Pathfinder Project Manager, Thailand Space Consortium
Event Details
Location:
The Planet Cafe and Restaurant