Putting Sustainability on the Menu at Shangri-La Chiang Mai
May 26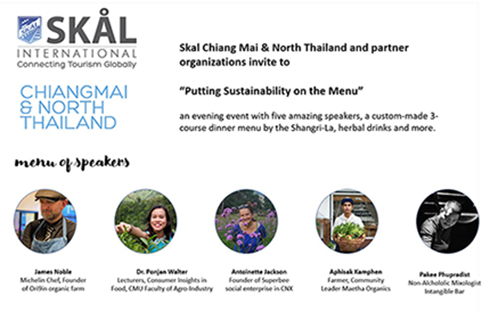 Continuing our journey towards a sustainable COVID recovery, this event will introduce you to high class speakers, whose work and products can directly help to raise the sustainability performance of the hotel and hospitality industry in Chiang Mai.
This event is supported and co-organized together with the "Chiang Mai International Tourism Initiative Rebuild" that includes associations and stakeholders in the tourism industry and is coordinated by Skål International Chiang Mai & North Thailand, Creative Chiang Mai, and the Chiang Mai University Science & Technology Park.
The event is open to all, prior registration and a fee are required.
The agenda
17.30 – 18.00 pm Registration & Welcome Drink* and ATK Test
18:00 – 18:15 Introductions and networking activity
18:15 – 19-15 5 amazing speakers (starter will be served during this dinner)
19:45 – 20-15 Q&A / Quiz
20:00 – 21:15 Desert networking and discussion at round tables (speaker will go around)
* The welcome drink is sponsored by Skål member Premruethai Tosermkit of The Family Tree. Taste the ancient Ayuvedic recipe, Triphala, which boosts health while supporting community forestry projects in Chiang Mai and Nan provinces.
The dinner will consist of three courses provided by the Chef of the Shangri-La and may include a surprise. The cost of the event is 700 Baht for members and non-members (flat fee).
Our speakers
Join Chef James Noble, the mastermind behind two Michelin starred restaurant kitchens in the UK, and founder of Ori9in, Thailand's first organic farm dedicated to the cultivation and enjoyment of gourmet-quality produce. James will talk about gastronomic sustainability and plant-to-plate dining.
Dr. Ponjan Walter is a lecturer in consumer studies and agro-industrial management and marketing at the Faculty of Agro-Industry, Chiang Mai University.. She will focus on the cultural elements related to food waste reduction in her talk "Creating a food waste reduction culture in your business".
Aphisak Kamphen (Aun) is a young organic farmer and coordinator from the Maetha Community in Northern Thailand (Maetha Organics). Maetha Organics supplies local produce to restaurants and the Central Group. It recently opened in TopsFresh at JJ market. He will talk about "how local farmer communities can work with the hospitality sector"
Pakee Phupradist (Key) is a Non-Alcoholic Mixologist and the founder of intangible, the only non-alcoholic cocktail bar in Thailand. His bar serves concept drinks as a "Drink Course" using local ingredients sourced from communities around the country. "Local to Modern Drink & Kitchen Waste to Good Drink"
Learn about solutions to reduce kitchen waste from Antoinette Jackson's SuperBee: a family-owned social enterprise supporting plastic-free living through sustainable, ethically-made eco products. SuperBee is a dynamic and thriving enterprise in Chiang Mai
We are looking forward to welcoming you and all our friends from the Tourism and Hospitality Industry .
Event Details
Timing:
From 5.30pm onwards
Location:
Shangri-La Chiang Mai