CEC General Meeting
June 22
General Meeting on June 22
Coffee 9:45 Meeting 10:30 – 12:00
Critical visa issues; Understanding Thai people; Chiang Mai Photographic Group; Survey results
The next general meeting will be held one day after the breakfast above, on Saturday, June 22, at the Lanna Palace Hotel on Chang Klan, starting at 10.30 am. Admission will be 100 baht for members, 200 baht for non-members.
The meeting will follow the "variety" format that we experimented with last month, and there are four items on the agenda. Here they are.
Retirement visa update with Q&A
For this item, Rhys Bonney from Assist Thai Visa, will make a welcome return as our presenter.
Here are the burning questions we are hearing. As usual there will be a Q&A session.
If you will use the 800,000 baht option for your retirement visa, in what kind of Thai bank account must it be kept? Can it be an interest-bearing account? For how many months must it be in the account before visa expiration, and for how long after visa renewal? Can you transfer the money from one Thai bank to another and not lose standing?
If you will use the 65,000 baht monthly income option for your retirement visa, what procedure will be acceptable for transferring money from your home country to a Thai bank? Does it have to be monthly? Does it have to be the same amount each time? If so, what about currency fluctuations? Can it come from your country's bank, or must it come directly from your retirement company or Social Security? Must it be a particular type of transfer? What documents do you need from your bank or home country when visiting the Immigration Department? Are there any other bank matters you need to know about?
My visa expires in three months. I have been using the income method. What should I do right now to get ready?
If I have more than three months before my visa expiration, and I can afford it, is it safest for me to put 800,000 baht into a Thai bank account and leave it there and forget the income option?
Is there any new information on a possible new health insurance requirement?
Understanding Thai people
David McPhee, D.Min, Ph.D., is an American clinical and forensic psychologist. In past years he presented three programs at general meetings on the topic of understanding the Thais. He returns this month with a shorter presentation called Understanding Thai People: First Steps.
gen meeting wyndham hollis
Chiang Mai Photographic Group
The Outside Group Activity (OGA) of the month is the Chiang Mai Photographic Group. The group's founder and organizer Wyndham Hollis (seen here with two friends) will speak.
(OGAs are special interest groups informally connected to the club, and independent of the club. All 14 of them are listed here.)
Survey results
If you attended the May 25 meeting, you will remember that at its conclusion you were asked to take part in a quick written survey. This was done in order for the club to learn more about members' favorite topics.
We have since tabulated your responses and the committee was quite surprised by the results. We'll give you a summary at the meeting and explain how we're changing future programming to suit your preferences. We'll also publish the full survey results in the newsletter in July.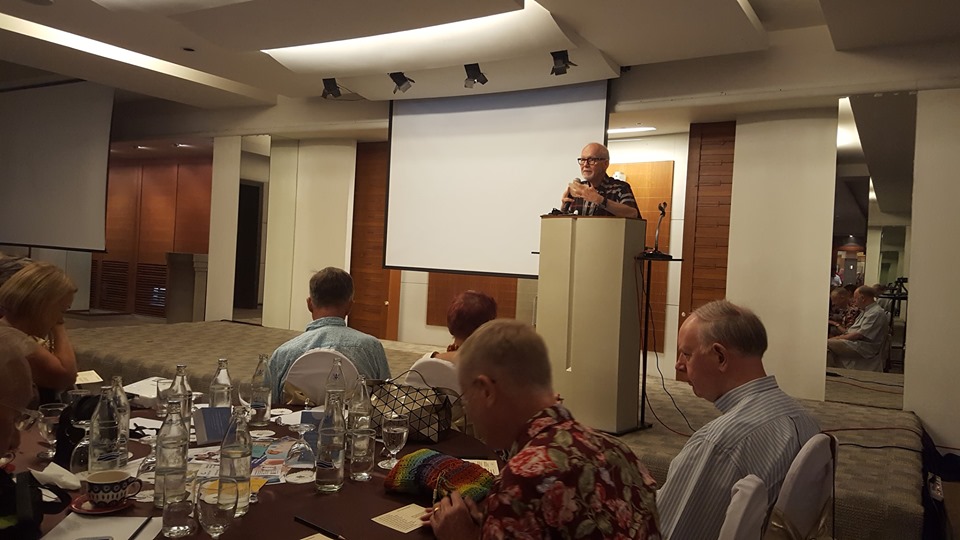 Event Details
Timing:
9.45 am - 12.00 pm
Location:
Lanna Palace Hotel