Academic seminars of Center of Excellence for Northern Region Development
August 29
Academic seminars of Center of Excellence for Northern Region Development on 29 August 2019 at The Empress Hotel.
Registration is free
https://docs.google.com/forms/d/1XeyF4w7CrGNBnH6olk7zMav8_62NrBoFTRzEjLSnnxk/viewform?edit_requested=true
In the event there are exhibition of research that is developed for commercial extension.  The research presentation of Center of Excellence 11 places that can be applied in the area consisting of 5 booths as follows
1. Agricultural product display
2. Industrial exhibition
3. Environmental exhibition
4. Health group exhibition
5. STEM Education exhibition
Including the exhibition booth of Chiang Mai University and booth of introduce the Office of Graduate Studies and Research in Science and Technology (Ministry of Education), Ministry of Higher Education, Science, Research and Innovation.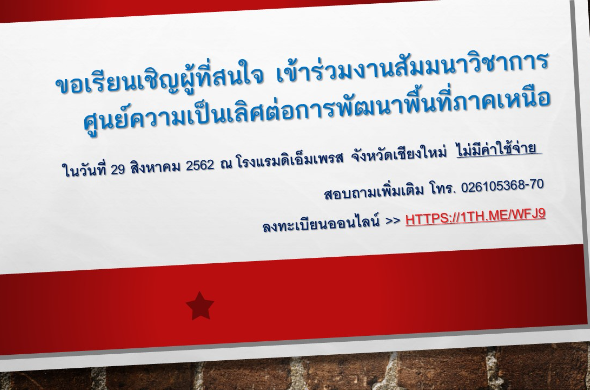 Event Details
Location:
The Empress Hotel