Kirtan with Akari & Friends – Live Mantra Chanting + Story + Invocation at Blossom Studio by The Yoga Tree
June 5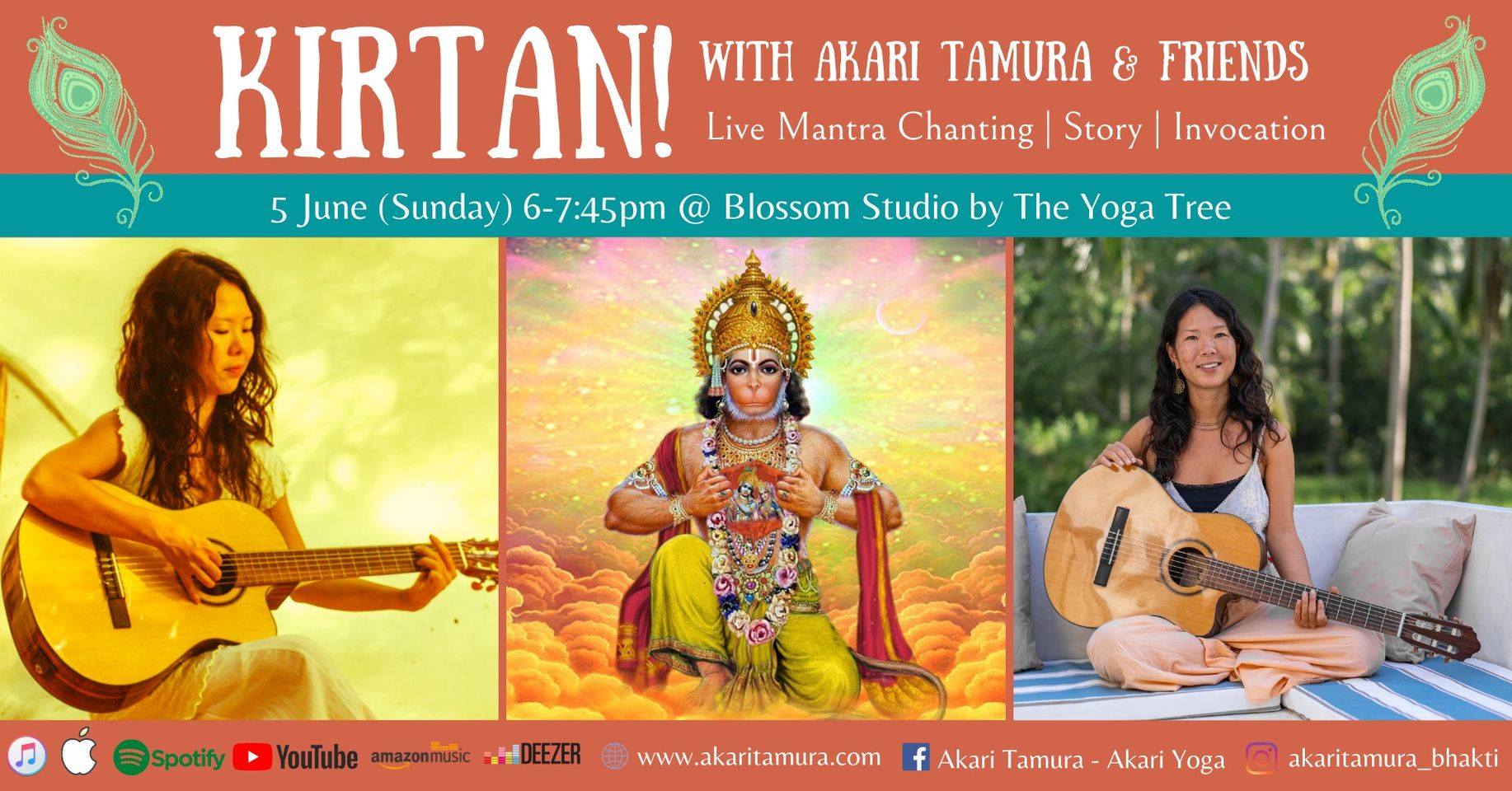 Akari Tamura is a Yoga Teacher and Kirtan Leader, known for her unique self-expression towards healing, love, and empowerment. Akari's kirtan is a magical blend of ancient Sanskrit soulful mantras + uplifting drumming beats for your heart to dance and expand effortlessly. The evening of chant is weaved together with the depth of being-ness + Hindu/Vedic stories + mudra + inspirations. She is based in Koh Phangan, Thailand and India, and tours around Europe in summer.
We are very happy to announce that Akari will be in Chiang Mai for a very unique Kirtan.
Come experience the blissful energy of Bhakti Yoga and Akari Tamura's music.
Everyone is welcome from all background with all intentions.
We look forward to co-creating the space of deep connections together 
【 Time & Location 】
5 June, Sunday, 6-7:45pm
Blossom Studio by The Yoga Tree
https://goo.gl/maps/EkQemjickkWN6swt9
*We would like to start on time, so please try to arrive 10-15 minutes earlier 
【 Energy Exchange 】
250B
*If you're having a financial difficulty, you can message us.
What is Kirtan?
Kirtan originates from the practice of Bhakti Yoga, and it is a mantra meditation with uplifting music support.
Kirtan is a joyful and ecstatic direct experience of knowing what has to be known and embraced within each of us.
Voice and sacred sound (mantra) carries us to the depth of our being.
Just like through sunshine, we can sense the presence of the sun, through mantra, we connect with the Divine presence that is always within and around.
"Kirtan is a form of purification and liberation. The mantras sensitize us, polish away the clutter in our heads and melt the numbness in our hearts, so we feel clear, awake, and brilliantly alive." – Sean Johnson
"Just like little drops of water together make an ocean, similarly drops of our energy combined can make a strong sankirtan movement." ~ A.C. Bhaktivedanta Swami Prabhupada
Event Details
Location:
Blossom Studio by The Yoga Tree