Jimmy "The Whirlwind" White – Pool Exhibition
May 19
CHA CHA SPORTS BAR & RESTAURANT IS PROUD TO PRESENT:
FIRST TIME EVER IN CHIANG MAI
JIMMY " THE WHIRLWIND" WHITE POOL EXHIBITION
SUNDAY, 19th of May 2019
Doors open at 700 PM, VIP Access only at 630 PM
Mark this date in your calendar and do not miss this fantastic event.
You can play a memorable frame with The Whirlwind!
General admission fee at the door is 350 THB
Reserve and pay for your ticket before the 15th of May and you pay 350 THB
including a soft drink or a small bottle of beer or a small draught beer
Or book your own VIP Table (only 10 available) for maximum (5 tables) 2 persons only at the price of 900 THB, (2 tables) 3 persons price is 1350 THB, (3 tables) 4 persons is 1800 THB,
including a free glass of bubbles
Play a frame with Jimmy 1000 THB which includes a signed photo from
Jimmy White, maximum 28 racks so sign up quickly!!!!!
Also get ready to buy some RAFFLE tickets with great prizes,
including 2 Cobra Glossy Pool Cues signed by Jimmy White!!
For reservations please come to Cha Cha Bar to get your ticket and pay
or call AJ (08 9017 6300 ENG) or Khun Pong (09 8759 9171 THAI)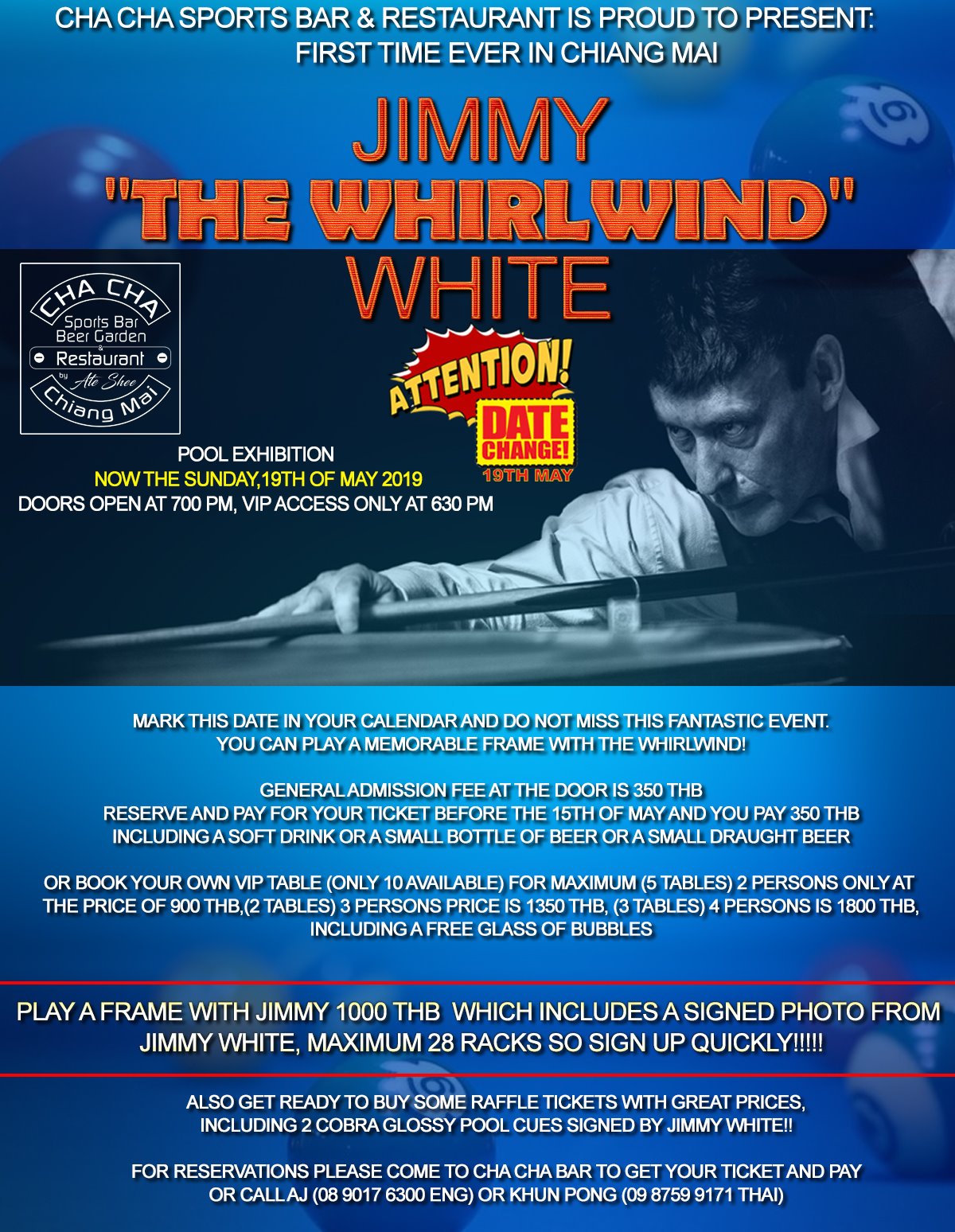 Event Details
Location:
Cha Cha Sports Bar
151/2 ม.1 ซ.ชมจันทร์ ถ.เชียงใหม่-หางดง ต.ป่าแดด เมือง Amphoe Mueang Chiang Mai, Chang Wat Chiang Mai 50100