Circuit Workout
June 18
Hello Chiang Mai Community!
How are you? Are you in the mood for some sweat, unity and fun? Join us on Tuesdays at 7pm for 6 weeks starting June 18.
Join us for a fun time based circle workout routine using Kettlebells, battle ropes, slam balls, TRX, bodyweight exercises and much more to get a happy and sweaty finish of the week. The class will be suited for all fitness levels, whether you are beginner or advanced, and will last about 1 hour.
We will focus on
– A joint warm up using agility ladders and mobility exercises
– Workout in circle format mixing strength, balance, muscular and cardiovascular endurance
– A cool down session with stretching and breathing exercises
– Having a really good time with nice music and enjoying the start of the weekend
We have 10 spots available – make your reservation at
livingwiththespirit.schedulista.com.
What: fun, empowering happy workout
Who: anyone no matter your physical level
Where: https://goo.gl/maps/hEkreAU21qpBP71VA
Same street as B2 Black Hotel, a bit further down the street on your right hand side.
When: Tuesdays at 7pm
Why: Because it makes you feel good
Cost: 150 thb
Questions: Send us a message ♥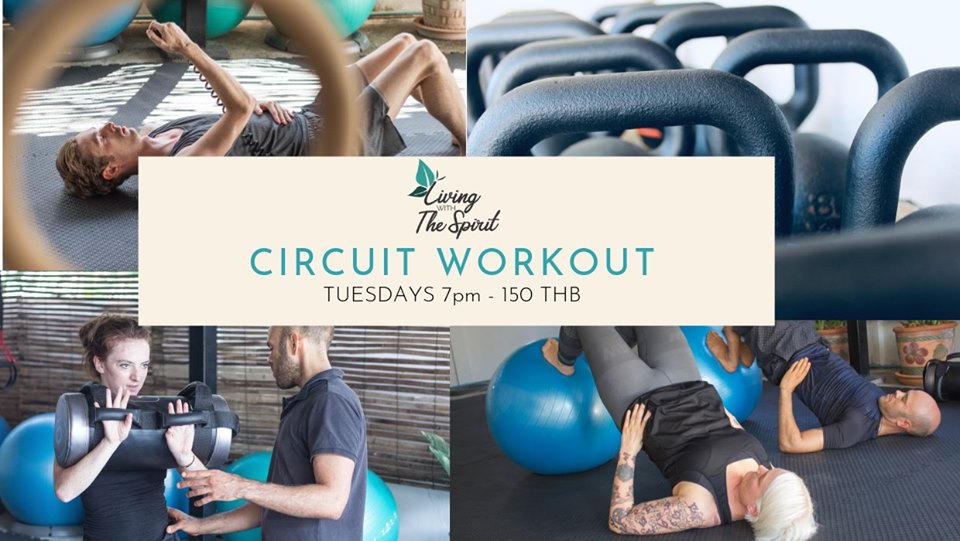 Event Details
Location:
House of Good Spirit