Off the Leash premieres at Sangdee Art Cafe
October 26
Off The Leash documents Chiang Mai musicians' quest for freedom of expression through unique fusions of punk, blues, rock and Thai music.. It throws light on their creativity and how they beat all odds to be able to express it.
"With this film,  I wanted to document the passion, creativity, zeal and talent of these extraordinary musicians. It gives the audience an intimate perspective on life for local musicians."
Off the Leash explores the underground music culture of Chiang Mai, a scene far removed from the mundane tourist joints. Chiang Mai attracts musicians from all over Thailand. It is definitely not the money that attracts them; it is the freedom and the feeling of belonging to this amazing community.
Jess continues: "Western culture has made explosive inroads into the psyche of the people here and the musicians are dealing with the same global issues of rebellion, freedom, passion and identity. "
The documentary is witness to the struggle of these artists as they try to find meaning and identity in an increasingly chaotic world and hopes to provide talented musicians from Chiang Mai a platform for their creativity.
Jess hopes that  "through these up-close and personal interviews, we aim to inspire all artists to stay true to their art, in spite of the hardships and struggles."
Off the Leash premieres at the Sangdee Arts Centre on Saturday 26th October
See below for more info and to register for free.
"I can't wait to screen the film in front of the real stars of Chiang Mai" says Jess "and then go and see them play live!"
Date: Saturday 26th October 2019
Time: 7pm doors. 8pm Film. 8.45pm Q&A. 9.30pm Bands: Pear Antidote
Cost: Free – please support the venue at the bar and food
Register: eventbrite.com.au/e/74953003451
Venue: Sangdee Arts Cafe
Address: 5 Soi 5 Siri Mankhalajarn Rd.  A. Muang, T. Suthep, Chiang Mai, 50200
More info: https://www.facebook.com/events/493503658047338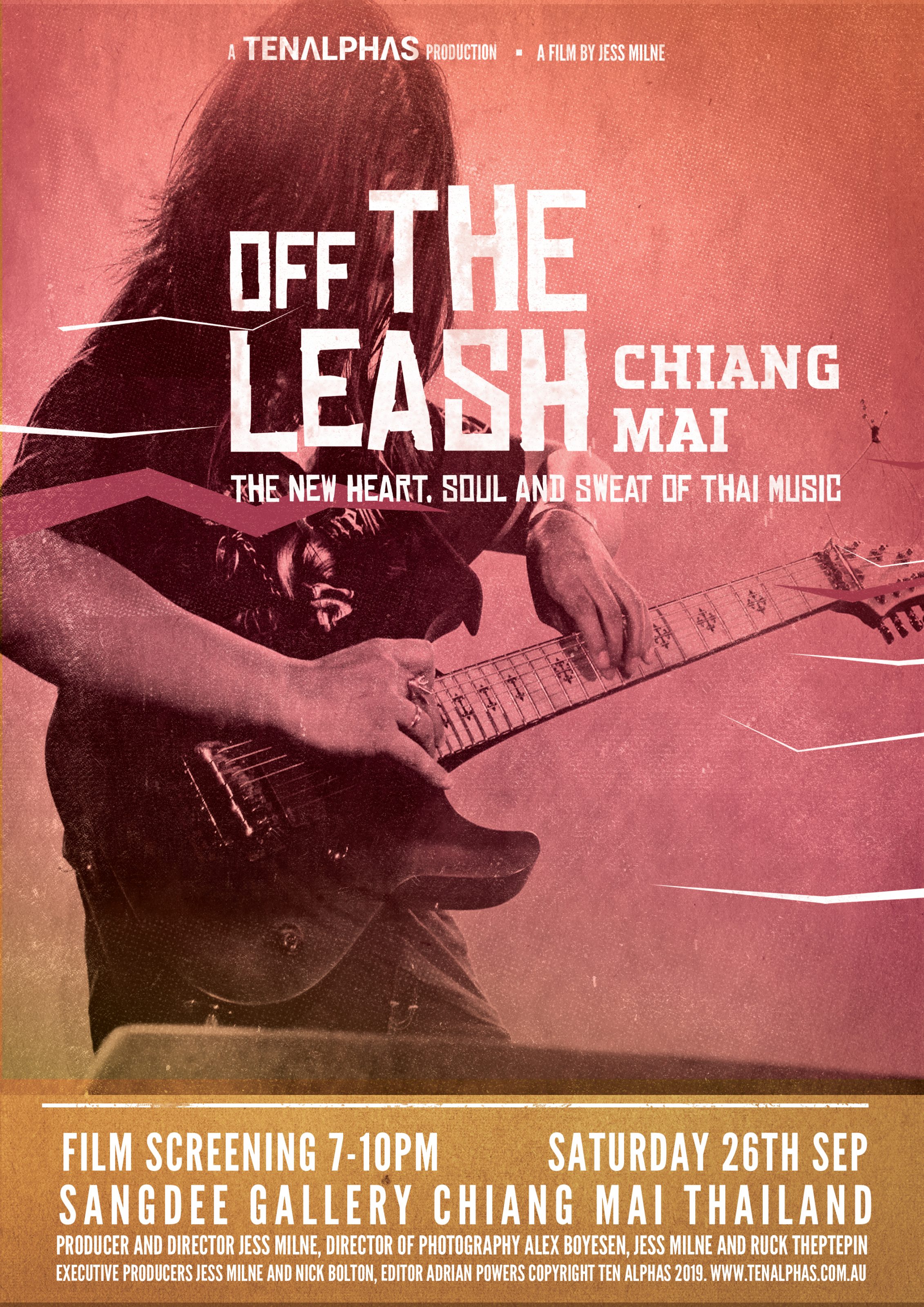 Event Details
Location:
Sangdee Arts Cafe