Chiang Mai Holistic 1 Year Party
August 11
Chiang Mai Holistic is celebrating 1 year.  In order to thank the community for all your great support over the last year, we will be having lots of donation events, yoga, sound bowls, food, monks and more.
All donations collected will be given to local charities.  It is a potluck party, so bring your favorite dish to share with others. Only Vegetarian dishes.
Schedule 
8:00 am – Cleansing of the building.
8.30 am to 10:30 am – Flower Mandala, Pranayama, Sound bowls.
9:00 am to 11:00 am – Monk's blessing (5 Local Thai Monks).
11:30 am to 1:00 pm – Lunch in the Community Room.
1:30 pm to 2:30 pm – Laughter Yoga.
3:30 pm to 4:45 pm –  Yoga for all Beginner to Intermediate – 90 min.
7:30 pm to 8:30 pm – Crystal Bowls & Thai Gong Sound Baht.
Thank you all for your support over this last year.
Location Google Maps (Chiang Mai Holistic): https://goo.gl/maps/fRVkP3tBuNXwWA886.
You can contact us via Facebook messenger: facebook.com/cmholistic,
LINE to @cmholistic or e-mail to [email protected].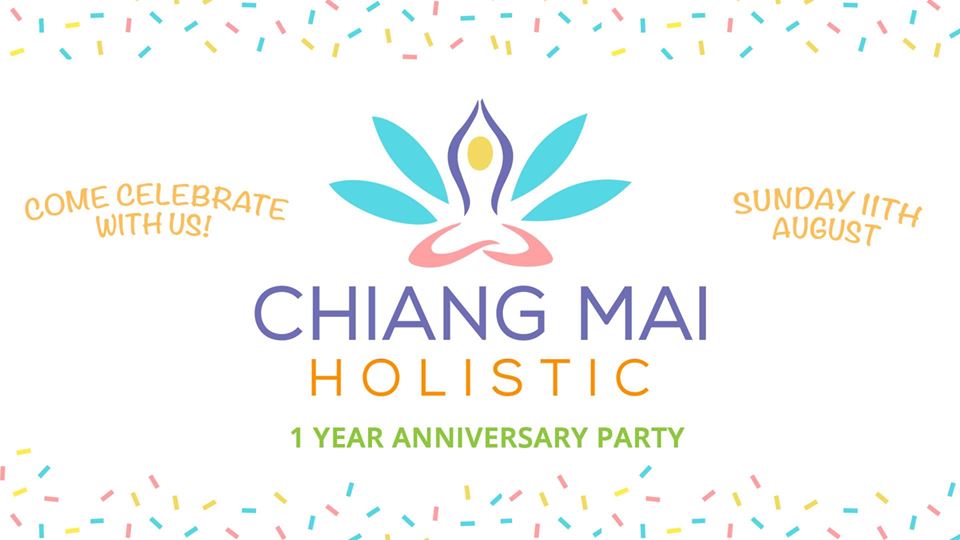 Event Details
Location:
Chiang Mai Holistic