Roadshow #1 Green Street by Chiang Mai Street Jazz Festival
June 27
Come join us and be a part of Chiang Mai's music history
with 'Roadshow # 1 – Green Street'. Official press release event for an international music festival 'Chiang Mai Street Jazz Festival', by the people of Chiang Mai!
On June 27, 2019 (Thursday)
at the North Gate Jazz Co-op, Chang Phuak Gate,
Chiang Mai, Thailand
Green Street conceptualizes environmental conservation in Chiang Mai. The green streets that Chiang Mai people want to see. With the support of 4 jazz bars in Chiang Mai, "The Mellowship, Moment's Notice, Thapae East and the North Gate Jazz Co-op, host venue for this event.
Many activities await you including
– T-shirt screening – bring your own or buy from us – with the logo of the CMSJ festival + Green Street edition!
– Art exhibition for the environment by Chiang Mai artists
– Live Music from SANIMYOK, ChiangMai Blues, RibbindaSky & Geng Cello!
– Along with the festival band, "Chiang Mai Street Jazz All-Stars"
and special guest and local artist, "Aom Ratanang"
– A surprise show from the Old Chiang Mai Cultural Center
– And much more!
Line up
19.00 Acoustic music from ChiangMai Blues
20.00 RibbindaSky & Geng Cello
21.00 SANIMYOK
22.00 Chiang Mai Street Jazz All-Stars with Aom Rattananang
23.00 Jam Session
Contact: 66873040478
See you on June 27, this year!
Image may contain: sky, tree, outdoor and nature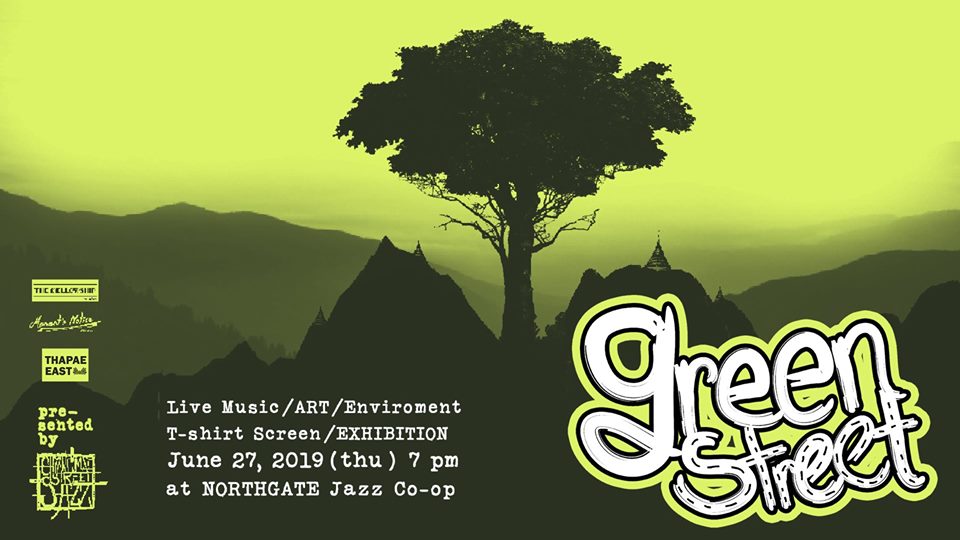 Event Details
Timing:
7.00 pm - midnight
Location:
North Gate JaZZ co-op !!