Physical development classes
March 1 - December 31
Hey 50FLY! family!!!
Stay active | Grow strong | Keep healthy
New physical development classes with coach
An indoor activity, specially designed Physical Development Classes for kids and teenagers.
After school classes 1.5 hr training + 30 min "FREE Jump" Session play time.
It will offer a great way to stay healthy and active through learning and meeting new friends.
𝐀𝐧 𝐢𝐧𝐝𝐨𝐨𝐫 𝐟𝐢𝐥𝐭𝐞𝐫𝐞𝐝 𝐚𝐢𝐫 𝐟𝐚𝐜𝐢𝐥𝐢𝐭𝐲.
𝐈𝐧𝐜𝐫𝐞𝐚𝐬𝐞 𝐲𝐨𝐮𝐫 𝐅𝐥𝐞𝐱𝐢𝐛𝐢𝐥𝐢𝐭𝐲 & 𝐒𝐭𝐫𝐞𝐧𝐠𝐭𝐡
𝐈𝐦𝐩𝐫𝐨𝐯𝐞 𝐲𝐨𝐮𝐫 𝐏𝐨𝐬𝐭𝐮𝐫𝐞 & 𝐂𝐨𝐨𝐫𝐝𝐢𝐧𝐚𝐭𝐢𝐨𝐧
𝐃𝐞𝐯𝐞𝐥𝐨𝐩 𝐍𝐞𝐰 𝐌𝐨𝐭𝐨𝐫 𝐒𝐤𝐢𝐥𝐥𝐬
𝐄𝐬𝐜𝐚𝐥𝐚𝐭𝐞 𝐲𝐨𝐮𝐫 𝐋𝐞𝐚𝐫𝐧𝐢𝐧𝐠 & 𝐂𝐨𝐠𝐧𝐢𝐭𝐢𝐯𝐞 𝐜𝐚𝐩𝐚𝐛𝐢𝐥𝐢𝐭𝐢𝐞𝐬
𝐁𝐨𝐨𝐬𝐭 𝐲𝐨𝐮𝐫 𝐈𝐦𝐦𝐮𝐧𝐞 𝐒𝐲𝐬𝐭𝐞𝐦.
Read more about all the Health Benefits of using Trampolines.
https://www.chiangmaicitylife.com/…/bounce-your-way…/…
𝐓𝐢𝐦𝐞: Mon-Fri 16:00 – 18:00
𝐏𝐫𝐢𝐜𝐞: Special March Price ONLY 400 thb (Standard Price 600 THB)
1.5 hr training + 30 min play time. (2HRS of Healthy Activity)
Limited Spaces per class, please book in advance to secure your spot.
Send a massage to book your spot: 053 142 650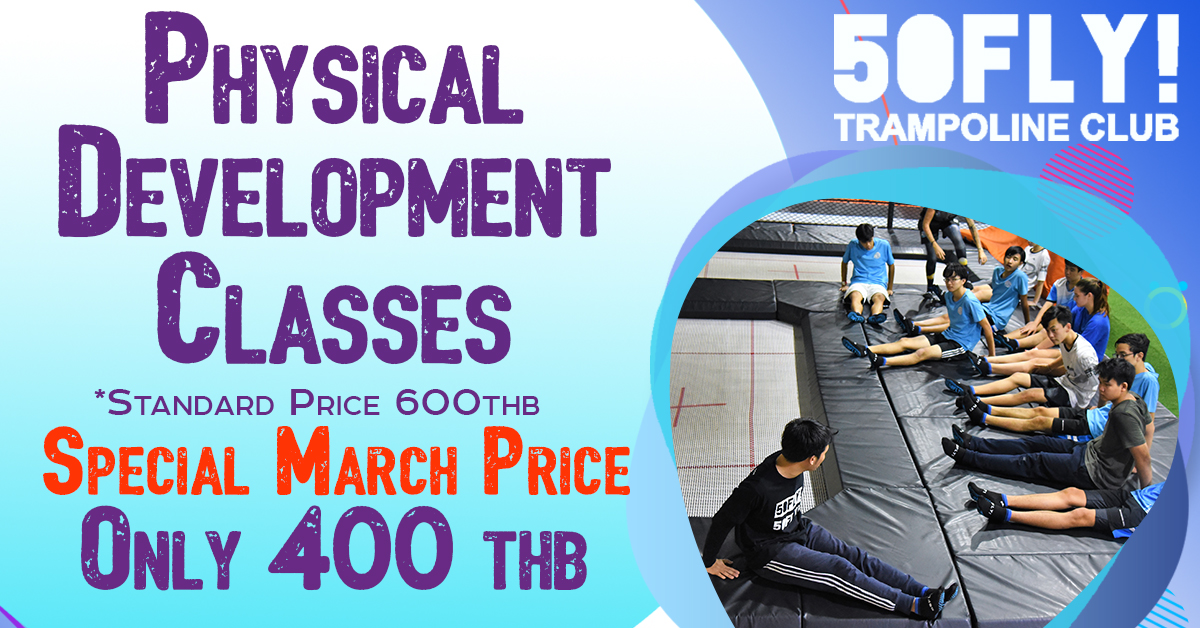 Event Details
Location:
50FLY! Trampoline Club,
Promenada Shopping Mall building B,
1st Floor.