Physical Development Classes at 50FLY
January 14 - February 28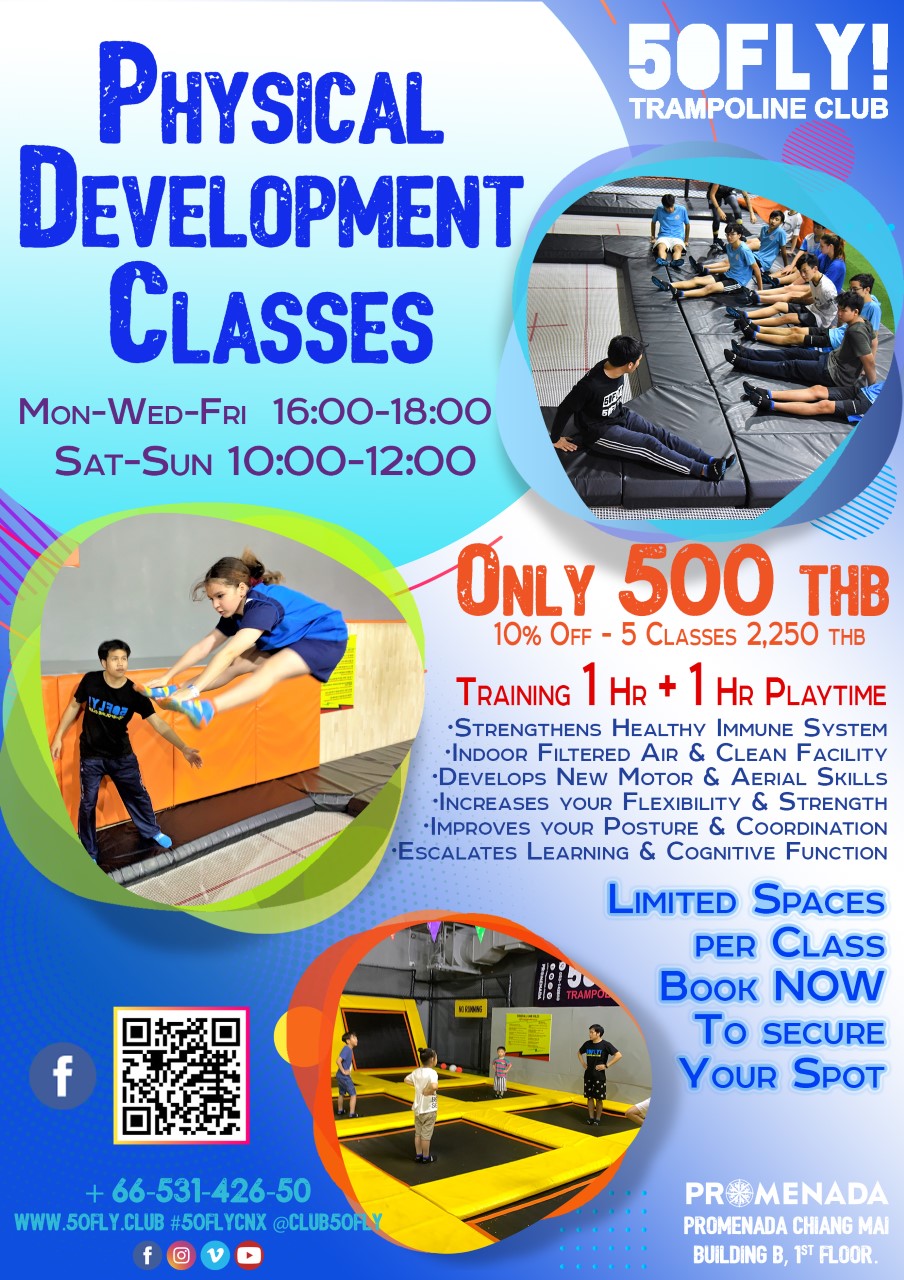 𝗦𝘁𝗮𝘆 𝗔𝗰𝘁𝗶𝘃𝗲 𝗚𝗿𝗼𝘄 𝗦𝘁𝗿𝗼𝗻𝗴 𝗞𝗲𝗲𝗽 𝐇𝐞𝐚𝐥𝐭𝐡𝐲
𝐏𝐡𝐲𝐬𝐢𝐜𝐚𝐥 𝐃𝐞𝐯𝐞𝐥𝐨𝐩𝐦𝐞𝐧𝐭 𝐂𝐥𝐚𝐬𝐬𝐞𝐬 𝐒𝐭𝐚𝐫𝐭𝐬 𝐚𝐠𝐚𝐢𝐧 !!!
An indoor activity, specially designed Physical Development Classes for kids and teenagers. It offers a great way to stay healthy
and active through learning and meeting new friends.
𝐀𝐟𝐭𝐞𝐫 𝐒𝐜𝐡𝐨𝐨𝐥 𝐚𝐧𝐝 𝐖𝐞𝐞𝐤𝐞𝐧𝐝𝐬 𝐜𝐥𝐚𝐬𝐬𝐞𝐬
𝟏 𝐇𝐑 𝐓𝐫𝐚𝐢𝐧𝐢𝐧𝐠 + 𝟏 𝐇𝐑 𝐏𝐥𝐚𝐲 𝐓𝐢𝐦𝐞.
𝐒𝐭𝐫𝐞𝐧𝐠𝐭𝐡𝐞𝐧 𝐇𝐞𝐚𝐥𝐭𝐡𝐲 𝐈𝐦𝐦𝐮𝐧𝐞 𝐒𝐲𝐬𝐭𝐞𝐦.
𝐈𝐧𝐝𝐨𝐨𝐫 𝐅𝐢𝐥𝐭𝐞𝐫𝐞𝐝 𝐀𝐢𝐫 & 𝐂𝐥𝐞𝐚𝐧 𝐅𝐚𝐜𝐢𝐥𝐢𝐭𝐲.
𝐃𝐞𝐯𝐞𝐥𝐨𝐩 𝐍𝐞𝐰 𝐌𝐨𝐭𝐨𝐫 & 𝐀𝐫𝐢𝐚𝐥 𝐒𝐤𝐢𝐥𝐥𝐬
𝐈𝐧𝐜𝐫𝐞𝐚𝐬𝐞 𝐲𝐨𝐮𝐫 𝐅𝐥𝐞𝐱𝐢𝐛𝐢𝐥𝐢𝐭𝐲 & 𝐒𝐭𝐫𝐞𝐧𝐠𝐭𝐡.
𝐈𝐦𝐩𝐫𝐨𝐯𝐞 𝐲𝐨𝐮𝐫 𝐏𝐨𝐬𝐭𝐮𝐫𝐞 & 𝐂𝐨𝐨𝐫𝐝𝐢𝐧𝐚𝐭𝐢𝐨𝐧.
𝐄𝐬𝐜𝐚𝐥𝐚𝐭𝐞 𝐲𝐨𝐮𝐫 𝐋𝐞𝐚𝐫𝐧𝐢𝐧𝐠 & 𝐂𝐨𝐠𝐧𝐢𝐭𝐢𝐯𝐞 𝐅𝐮𝐧𝐜𝐭𝐢𝐨𝐧.
Read more about all the Health Benefits of using Trampolines in Citylife Chiang Mai article.
https://shorturl.at/bnryI
𝐓𝐢𝐦𝐞: Mon-Wed-Fri 16:00-18:00
(10% Off – 5 Classes 2,250 thb)
1 HR Training + 1 HR Play Time. (2HRS of Healthy Activity)
Limited Spaces per Class, Book NOW to secure your spot.
For more information call: Tel. 𝟎𝟓𝟑𝟏𝟒𝟐𝟔𝟓
Event Details
Location:
50FLY! Trampoline Club, Promenada Shopping Mall building B, 1st Floor.