KID'S FUN CAMP at 50FLY!
March 29 - April 14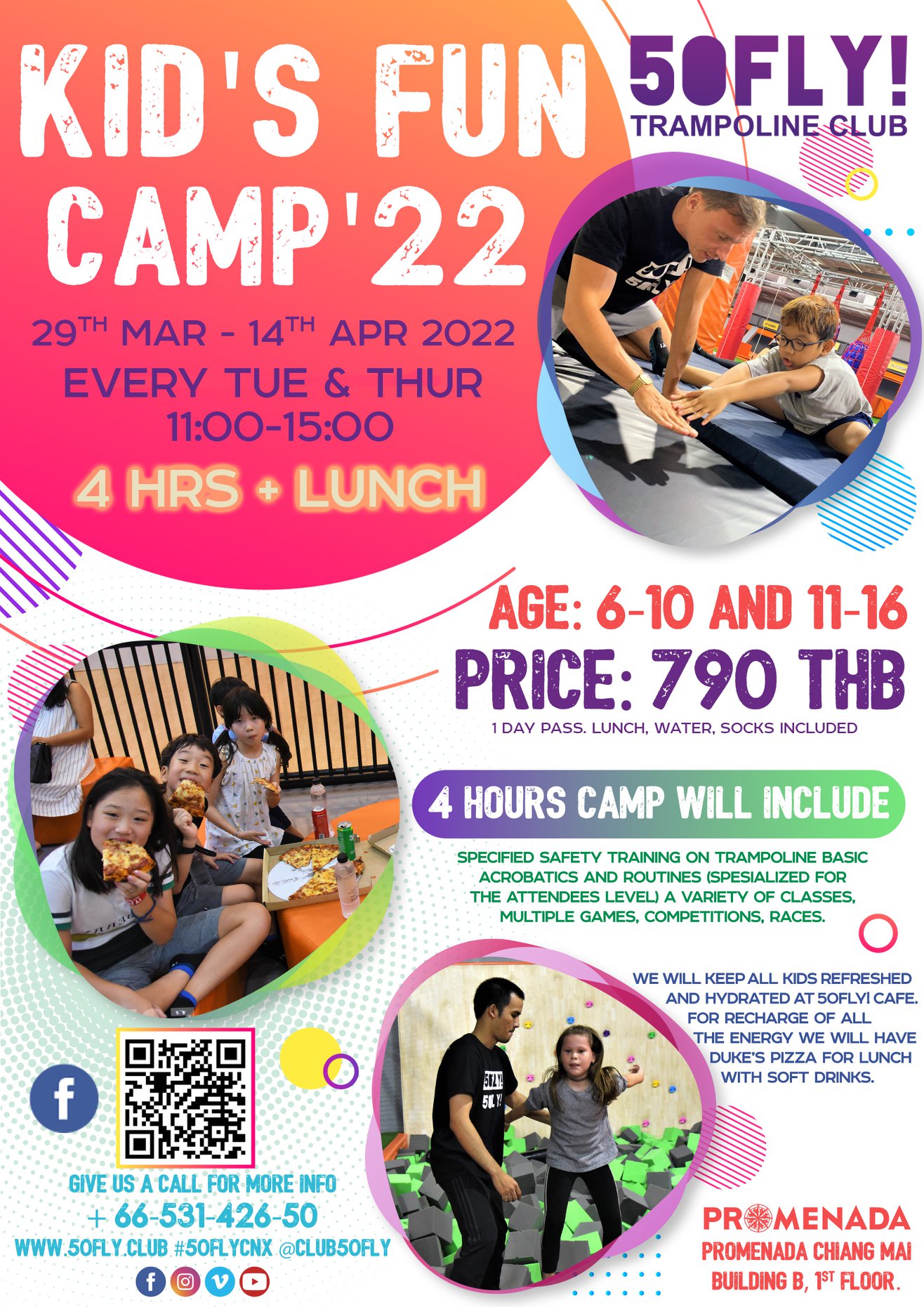 𝗛𝗲𝘆 𝟱𝟬𝗙𝗟𝗬! 𝗙𝗮𝗺𝗶𝗹𝘆 !!!
𝟓𝟎𝐅𝐋𝐘! 𝟒𝐡𝐫𝐬 𝐊𝐈𝐃'𝐬 𝐅𝐔𝐍 𝐂𝐚𝐦𝐩 + 𝐋𝐮𝐧𝐜𝐡
Starts 29th Mar till 14th April
Games in combination with multiple health beneficial exercise routines to build overall body strength and also teach the kids
relaxation, focus, increase in natural endorphins boost.
𝗣𝗿𝗼𝗺𝗼𝘁𝗲𝘀 𝗛𝗲𝗮𝗹𝘁𝗵 𝗮𝗻𝗱 𝗦𝘁𝗿𝗲𝗻𝗴𝘁𝗵𝗲𝗻𝘀 𝐈𝐦𝐦𝐮𝐧𝐞 𝐒𝐲𝐬𝐭𝐞𝐦:
– Aerobic exercises
– Cardiovascular endurance
– Flexibility exertion
– Breathing techniques
– Posture correction
– Eye yoga
– And many Games just for fun.
𝐓𝐢𝐦𝐞: 𝐓𝐮𝐞 & 𝐓𝐡𝐮𝐫 𝟏𝟏𝐚𝐦-𝟑𝐩𝐦
4hrs Health Camp included 𝐋𝐮𝐧𝐜𝐡 𝐟𝐫𝐨𝐦 𝐃𝐮𝐤𝐞'𝐬 and a bottle of water for refreshment.
Please book in advance as we have limited spots for different age groups.
𝗦𝗲𝗻𝗱 𝘂𝘀 𝗮 𝗺𝗲𝘀𝘀𝗮𝗴𝗲 𝐭𝐨 𝐛𝐨𝐨𝐤 𝐲𝐨𝐮𝐫 𝐬𝐩𝐨𝐭:
𝟎𝟓𝟑-𝟏𝟒𝟐𝟔𝟓
Event Details
Timing:
Every Tuesday and Thursday 11am - 3pm
Location:
50FLY! Trampoline Club, Promenada Shopping Mall building B, 1st Floor