Chiang Mai American independence day half day camp for Kids
July 4
A Unique American Half-Day Camp for Kids
This Half-Day camp is a bit of a hybrid. From 1-5pm students learn about American music, culture, and history. From 5pm – 6pm, parents are invited to enjoy a simple BBQ with their family and watch their children compete in American style games and sing American songs. BBQ dinner is nothing fancy, just hotdogs, fruit, and coleslaw.
This camp will be managed in English by both American and local Thai educators. Translation will be provided for Thai students if necessary.
4 – 12 Years Old
Children participating in the camp will be split into groups based upon their age. All students will play (a lot), learn some American songs, culture, and history – age appropriate of course from 1pm – 5pm.
Student Performances and Production!
At 5pm, when parents arrive back at the school, students will perform the music they learned throughout the day (American songs), and play American sports with their new friends. Parents will be asked to both watch and play as well!
Program for the Day
12:30 – 1:00pm – Parents drop off children and registration at front gate.
1:00 – 1:30pm – Full group activity and Introductions
1:30 – 3:00pm – Rotations 1 & 2
3:00 – 3:30pm – Snack and Play Time
3:30 – 5:00pm – Rotations 3 & 4
5:00 – 6:00pm – Parents Join and watch student performances and take part in fun student games.
6:00 – Camp is over – Group Photo and Go Home!
Program Rotations
Program Rotations will be age specific and be based upon these items:
American Songs – Each group of children will learn a different American style song to sing for the performance at 5pm. Songs will be that of traditional American songs (American the beautiful), Star Spangled Banner, etc.
American Games – Kickball, Similar to baseball, but you kick the ball instead of hitting it!
American History – Age appropriate history of the United States.
American Culture – Age appropriate lessons on American holidays, etc.
BBQ for Everyone!
While students are performing and playing (at 5pm), a simple BBQ of hotdogs, Coke, fruit and other 4th of July favorites will be cooked and served somewhere between the kickball area and where students are signing. The BBQ chef will greatly appreciate parental support to make sure the ball doesn't knock him or the grill over!
Covid 19 Protocols
In an effort reduce the spread of Covid 19, all students, staff, and parents will be required to wear facial coverings (masks), unless singing or eating. While singing or eating, all participating members (students, staff, and parents) will be required to remain at least 2 meters apart.
Body temperature will be taken of all participants, and entry will be denied to individuals that have a temperature over 37.5 Degrees Celsius.
Hand Sanitizer will be provided and required to students every half hour. All surfaces will be disinfected every hour by clearning staff.
Camp Staff and Support
Unlike other summer camps in Chiang Mai, this program is staffed by international school teachers and staff. All staff have experience in working with children, a clean police check, and most of them – an American accent, even if they aren't American themselves.
Participation Fees
Participation fees in the half-day camp are 850 Baht per student. This provides the student all materials, programming, snacks and drinking water from 1-5pm. It also provides both the student and up to 2 parents hotdogs, fresh fruit and other BBQ / 4th of July treats during the presentation and game program for from 5pm – 6pm.
Registration for the camp is free! Payment is required upon drop off of children on the day of the event in cash only. Please register by clicking on the link below.
Location
Summer 9 Programs is using the venue of Singapore International School Chiang Mai for the event. Conveniently located near the Chiang Mai old city moat, and with plenty of parking available in a garage next door, it will be the perfect spot for the camp!
Singapore International School Chiang Mai
10 Hussadhisawee Rd
Sripoom Muang
Chiang Mai 50200
Who can take part?
All of this sounds pretty American, but, any child (regardless of nationality) aged 4-12 is welcome. Staff will be able to translate into Thai for children whose English abilities are not yet at a level for understanding the fluent English speakers that will be managing the program.
Register for Chiang Mai American Independence Day Camp
Fees
Student Participation in the American Independence Day Camp is 850 Thai Baht per student. This includes cost of activities, snack, and simple BBQ of hotdogs, fruit, coleslaw for the 5-6pm student performance per one student and two parents.
The cost of the camp will be paid in cash on in-person registration at drop off for the event.
Terms & Conditions
By registering for the event, parents agree to our terms and conditions of student and parent participation in the program. Visit our Terms and Conditions Page for details.
Registration
Registration form for the event is at the bottom of this page.
American Independence Day Children's Camp Venue:
Singapore International School of Bangkok, Manee Nopparat 3 Road, Mueang Chiang Mai, Chiang Mai 50200, Thailand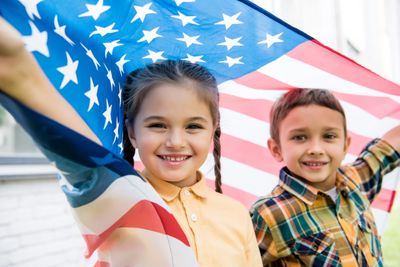 Event Details
Location:
Singapore International School