Help Myanmar Refugees and IDPs
April 12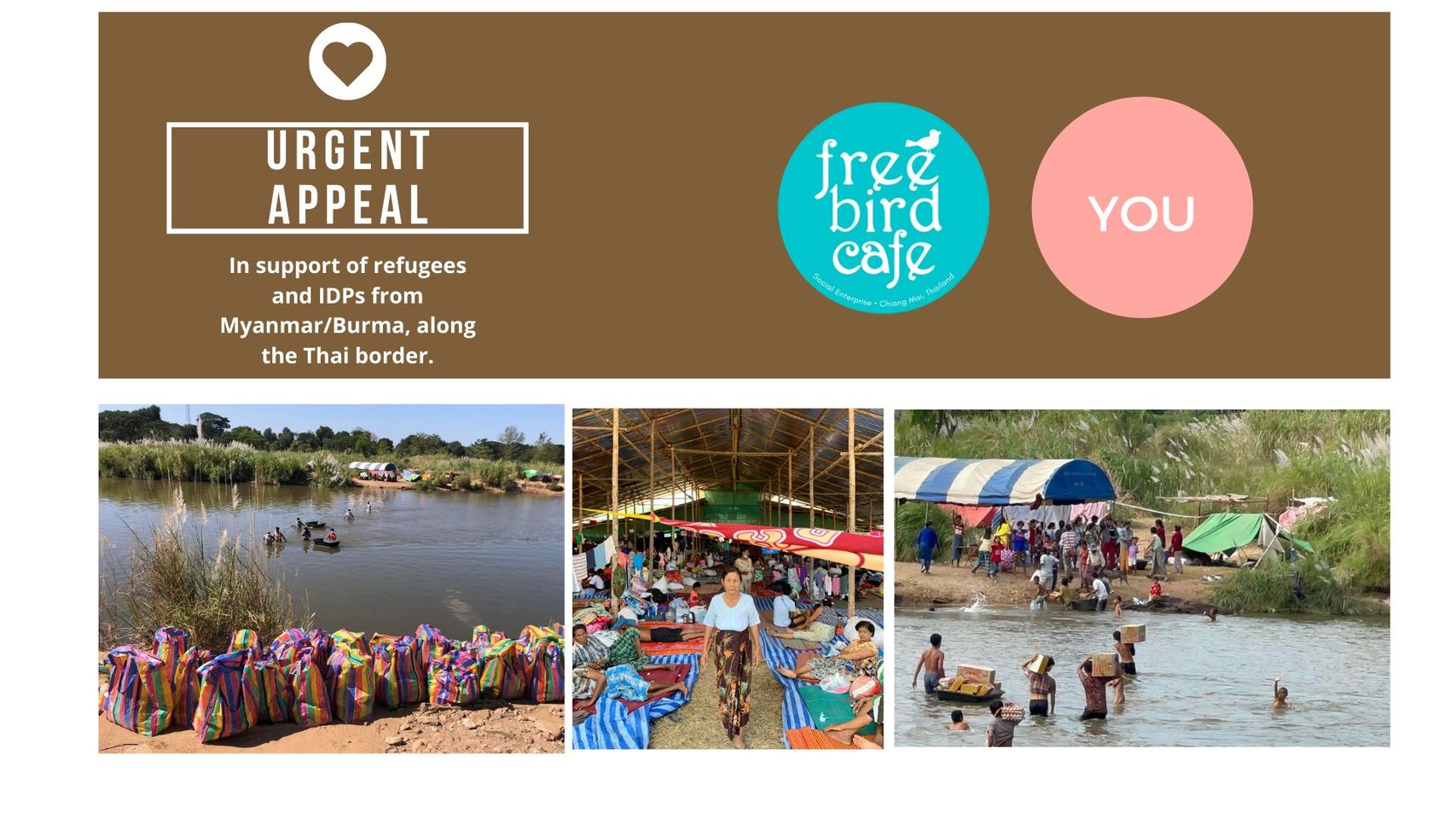 Hi! Just as the need for emergency aid for refugees and IDPs (Internally Displaced Peoples) along the Thai/Myanmar border hasn't gone away, neither have we!
Ignore the date, the cause is ongoing, please click 'going' to increase awareness and share this event, urging people to see the 'description' here and the 'discussion' section where I will put updates.
Thank you from the bottom to the top of our hearts and on behalf of the people we have been able to distribute life-saving aid to with your donations so far.
Since late Dec. '21, we have successfully created and distributed, (with your donations and our partner, Metta Charity) 500 emergency ration bags for refugee families in Mae Sot, Tak, Thailand, along the border. These families were returning to their homes that had been looted and burned by the Burmese Junta, what we provided was all they had. We have dist. first aid, medicines, toiletries, shoes, new and pre-loved clothing, dry and prepared foods, drinking water and more, to thousands of recipients on both sides of the border.
Our foundation, Thai Freedom House, has been assisting refugees living in Thailand and IDPs along the border since 2005 with emergency assistance and free education, vocational training, and life skills, responding to the long-term needs of previous waves of refugees from Myanmar/Burma.
Based on feedback from the current recipients of emergency packs, we are tailoring the next batch to their requests and needs. Each of these packs costs 1,500b or $45USD and is designed to give vital goods, comfort, nourishment and to let them know that they are not forgotten.
We will continue to distribute the packs to IDPs that we can reach in Mae Sot and we have secured a way to distribute directly to the new IDPs in Shan State as well. Many of these families have been caught up with Thai authorities after fleeing their homes and are in desperate need of life-saving aid and support.
We are also continuing to support the Community Kitchen in Mae Sot where volunteers cook up to 3,000 meals daily and drive to far-out areas to distribute to IDPs and refugees on both sides of the natural Thai/Myanmar border of the Moei River, twice a day, at great risk to themselves.
We are also, always, distributing clothing, blankets and household items to those most in need all over N Thailand and into Burma, as we have done since 2009, from items donated to our donation center in Chiang Mai.
Here is how YOU can help:
1. Donate funds towards the purchase of the needed items. $45USD or 1,500b covers one bag, any amount is welcome.
2. If you are in Chiang Mai, you can purchase the items listed below and drop off at Free Bird Cafe to go in the bags.
3. When we have enough materials or donations, we will announce a date that you can come to help us pack the items up, at Free Bird Cafe.
4. Please share this event with a few words, to your friends and family to encourage them to help if they can. Click 'going', it helps it show up more!
Can you help?
Thai bank: SCB, Lisa Nesser, savings: 681-225484-1
*if you send by bank transfer, send Free Bird Cafe a screenshot to record it.
If you have an issue transferring one of these ways, please message Free Bird Cafe and we can help.
Everyone working on this project does so at their own expense, so 100% of what is donated goes straight to materials purchases.
Thank you and please share far and wide.
Each pack will contain (feel free to purchase these items and bring to the cafe or donate funds for us to purchase in bulk):
10 kg dry rice
5kg lentil bean
20 pack instant noodles mama/wawa
Cooking oil
Salt
Cookies, snacks for kids
Toothbrushes
Lg. Toothpaste tube
Menstrual pads
Underwear (new, children, and adult)
Warm caps (new, children and adult)
Lg. bar of soap
Laundry soap packet
Towels (children and adults)
Waterproof Bag for packing items
Once again, thank you. We are so grateful for your support to do this life saving work.