Wine Exhibition at Mövenpick Suriwongse Hotel Chiang Mai
October 6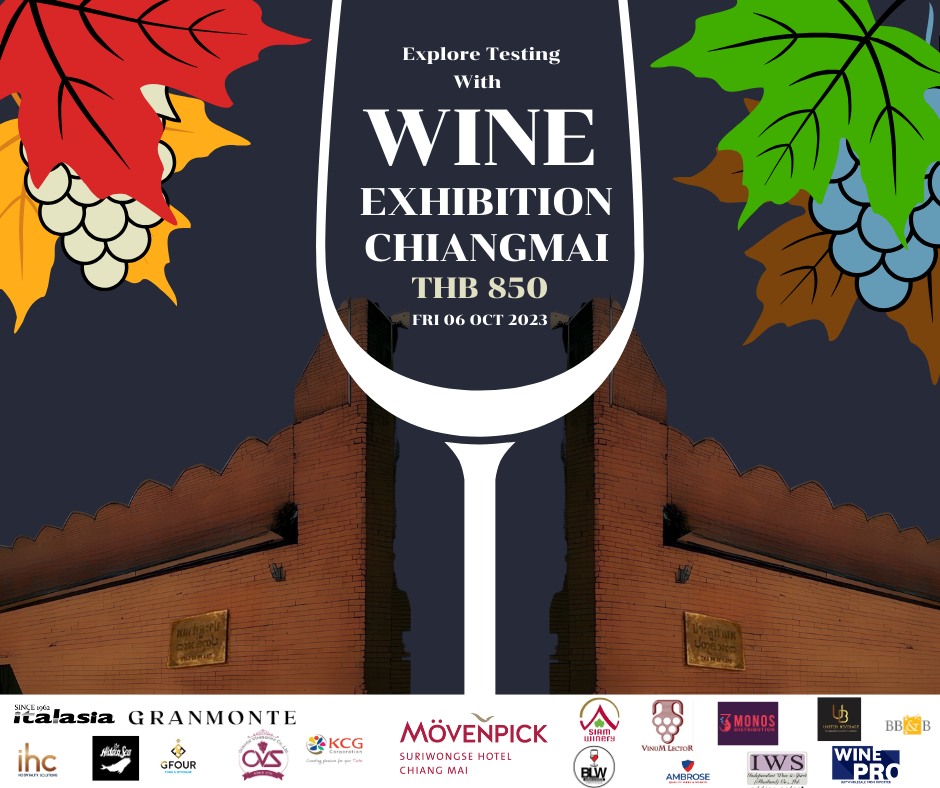 Northern Thailand's Grandest Wine Extravaganza is Here! Join Us at the Largest Wine Exhibition 

Prepare your senses for an extraordinary wine affair as we proudly present the largest wine exhibition in Northern Thailand! With over 90 world-class wine labels and a mouthwatering array of gourmet delights, this event promises an unforgettable journey of taste and elegance.
Discover the World Through Wine:
Embark on a global wine adventure right here in the North. Experience the rich flavors and stories behind more than 90 carefully selected wine labels from renowned vineyards across the world. Each bottle is a testament to the artistry of winemaking.

Culinary Delights to Satisfy Every Palate:
Complementing the wines is an exquisite selection of culinary delights. From delectable appetizers to gourmet main courses, our food offerings are expertly crafted to enhance your wine experience. Sip, savor, and relish the harmonious symphony of flavors.

Prizes Galore, the North's Largest:
But the excitement doesn't end with wine and food. Our wine exhibition boasts an impressive array of special prizes, making it the largest wine-related prize event in Northern Thailand. Could you be the lucky winner?
Event Details:
Date: Oct 6,2023
Time: 18.00 – 21.00 Hrs.
Venue: Navarat Room, Mövenpick Suriwongse Hotel Chiang Mai
Price: 850 Baht per person
Don't miss out on this exclusive event! Whether you're a wine enthusiast or simply looking for a remarkable evening of culture and cuisine, this exhibition promises something extraordinary for everyone.
Reserve your spot today and elevate your wine journey:
Line Official: @movenpickchiangmai
Tel. +66 53 270 051
Join us at the most anticipated wine exhibition in Northern Thailand, where we raise our glasses to the finest wines, exquisite food, and the joy of celebration. See you there! 
Event Details
Location:
Mövenpick Suriwongse Hotel Chiang Mai