The Vorra Bistro chef's table
September 18
Lockdown is done. Let's have a special meal with a private Chef's Table at The Vorra Bistro this coming Saturday!!
Exclusive dinner created by a nationally renowned executive chef, Toey Saharat.
4-course Traditional Italian dinner 1,500 baht per person.
On Saturday 18 Sep 2021, at 6:00 p.m.
By reservation only. Limited seats available.
Open daily from 10.00 – 22.00 hrs. (Closed on Tuesdays)
Location: https://goo.gl/maps/dpa5j5L8LoaHZxNaA
Call: 053 278 780
LINE : @thevorrabistro or click https://lin.ee/88HQKZj
คลายล็อคแล้ว มาเปลี่ยนมื้อธรรมดา ให้เป็นมื้อสุดพิเศษ กับ Chef's Table ที่ The Vorra Bistro
วันเสาร์นี้เท่านั้น‼️ รังสรรค์เมนูโดย 👨‍🍳 Executive Chef ระดับประเทศ เชฟ เตย สหรัฐ การันตีด้วยรางวัลจากหลากหลายเวที (เมนูพิเศษสำหรับเสาร์นี้เท่านั้น)ในราคาเพียง 1,500 บาทต่อท่าน
วันเสาร์ ที่ 18 ก.ย. 64 เวลา 18.00 น.
กรุณาสำรองโต๊ะล่วงหน้า ที่นั่งมีจำนวนจำกัด
พิกัดร้าน: https://goo.gl/maps/dpa5j5L8LoaHZxNaA
สำรองที่นั่ง/สอบถามรายละเอียดเพิ่มเติม:
โทร : 053 278780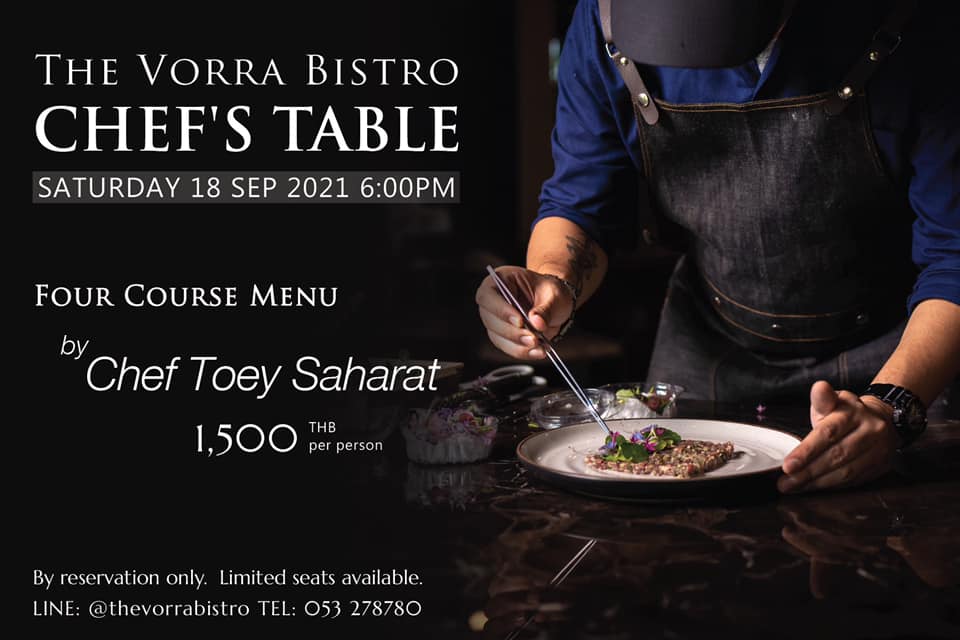 Event Details
Location:
The Vorra Bistro