The Duke's October 2021 promotion
October 1 - October 31
Early Bird Dinner ( 220 THB / NET )
Served Everyday 4.30 -6.00 PM
** LASAGNA DINNER**
Beef, Pork, 3 Cheese and Tomato Sauce Served with Salad and Vegetable.
** FRIED CHICKEN CUTLET **
Buttermilk Fried Chicken, Mash Potato with Cream Gravy.
** BIG BOWL VEGETABLE NOODLE SOUP **
Warm Noodle Soup and Mixed Vegetable Served with Garlic Bread and Salad
** PORK BURITO **
Pork with Spices, Chili Garlic, Cheese, Guacamole and Refried Beans
** MEATBALLS AND MASH **
Meatball and Mash Potato Served with Vegetable and Salad.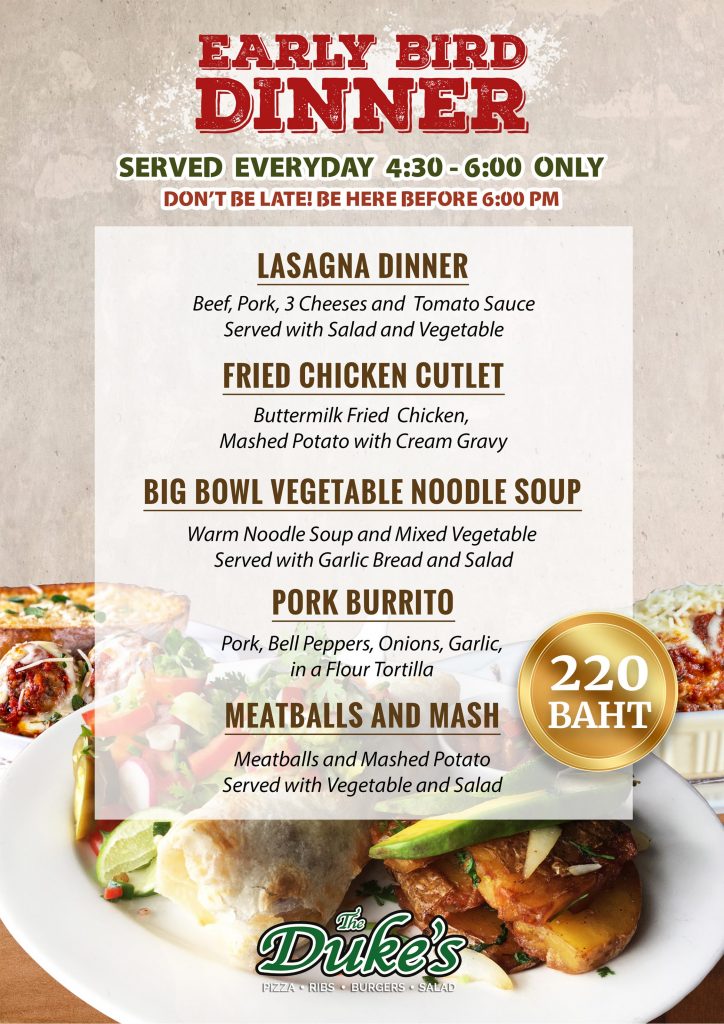 Burger Special
** THE HAVANA ** ( 220 .- THB )
Imported Fresh Ground Chuck Beef Burger, Swiss Cheese, Ham, Chili Mayonaise and Pickle Served with a Side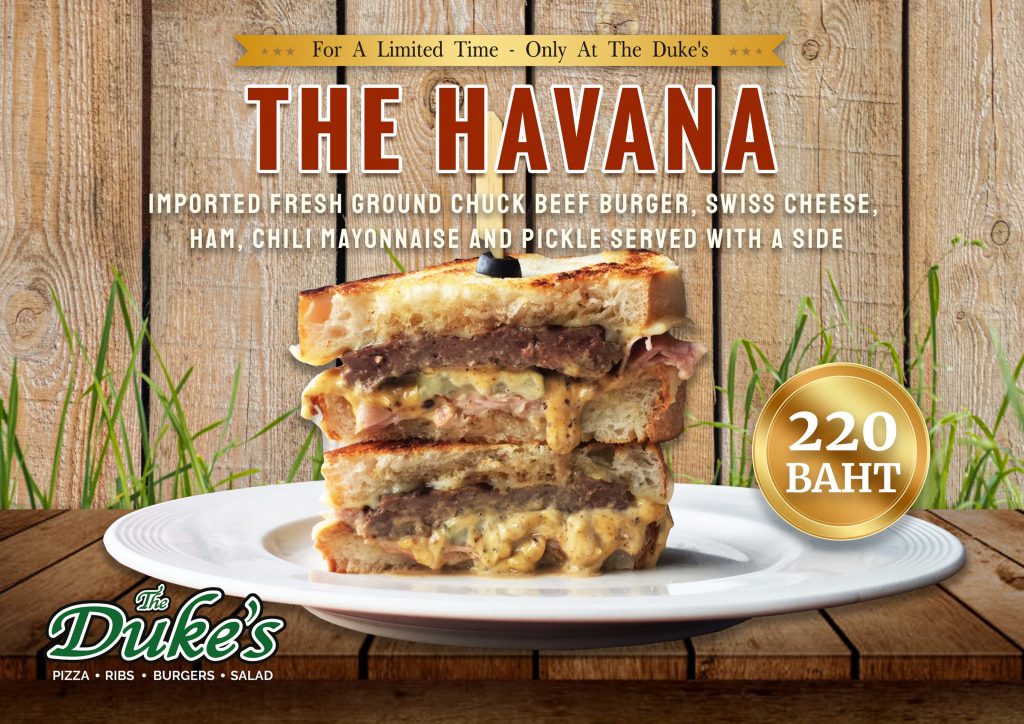 Delivery Promotion
"BOGO PROMOTION" BUILD YOUR OWN TWO TOPPING
Bogo 10 Inch Promotion: Buy 2 Topping Get 2 Free Topping Pizza = 335THB
Bogo 12 Inch Promotion: Buy 2 Topping Pizza get another one Two topping ( = 2 Tray Pizza ) = 445 THB
Bogo 14 Inch Promotion: Buy 2 Topping Pizza get another one Two topping ( = 2 Tray Pizza ) = 575 THB
—————————–
"BOGO PREMIUM EXTRAVAGANZA " CHOOSE YOUR PIZZA
*BUY 1 Get 1 / Order Any Pizza Get Another One Of The Same Size
BOGO PREMIUM 10 Inch = 355 THB 
BOGO PREMIUM 12 Inch = 465 THB 
BOGO PREMIUM 14 Inch= 575 THB 
MENU
Meat Explosion
Pepperoni, Italian Sausage, Meatball, Ham, Tomato Sauce
Pepperoni Lover
Double Pepperoni, Mozzarella Cheese, Tomato Sauce
Seafood Bomb
Shrimp, Calamari, Crab Sticks, Pineapple, Cream Sauce
The Chicken Bacon Ranch
Ranch Sauce, Bacon, Chicken and Onion
Veggie Lover
Zucchini, Eggplant, Mushroom, Onions, Tomato, Mozzarella, Tomato Sauce
Combo Supreme
Pepperoni, Sausage, Meatballs, Mushroom, Onion, Bell Peppers, Black Olives, Mozzarella, Tomato Sauce
Carbonara
Ham, Bacon, Mushroom, Cream Sauce.
Sausage Feast
Italian Sausage, Polish Sausage, Maxwell Sausage and Beef Hotdog, Tomato sauce
BBQ Chicken
Chicken, Bell Peppers, Onions, BBQ Sauce and Jalapeno
Sausage Mushroom
Italian sausage, Mushroom, Tomato sauce
Four Cheese Pizza
Ricotta, Mozzarella, Blue Cheese, Cream Sauce.
Bacon Cheeseburger pizza
Bacon, Ground Beef, Diced Tomato, Onion, Cheddar mozzarella mix, Tomato Sauce
Sausage Mushroom
Italian Sausage, Mushroom, Tomato Sauce