Sweet 60's afternoon tea party
November 6
Let's travel back in time and have fun in the old days together.
Join us for an exclusive afternoon tea party in an exquisite garden by the Ping Riverside. Enjoy desserts, savouries and teas together with live oldies music and don't forget to wear the 1960's fashion back to the old day "Sweet 60's".
Date: SAT, 6th Nov 21
Time: 4-6 p.m.
Dress code: 1960's fashion
Activities:
-costume contest & win the prize!
-Tea tasting (by Monsoon Tea)
Price: 1,590 per set* (1 set is for 2 people)
Book your ticket now (limited seats):
089 888 9339
[email protected]
—
ย้อนวันหวานแต่งตัวจัดเต็มในแฟชั่นยุค 60
มาปาร์ตี้จิบน้ำชายามบ่าย พร้อมฟังดนตรีสดสุดคลาสสิค
พร้อมชิมชา Tea tasting จาก Monsoon Tea  ท่ามกลางบรรยากาศ สุดชิล ในสวนริมแม่น้ำปิง เดอะ คอนโซลส์ การ์เด้น!

วันเสาร์ที่ 6 พ.ย. 64    
เวลา: 16:00-18:00 น.
ธีมงาน: แฟชั่นยุค 1960

ภายในงานมีประกวดการแต่งกาย
(รับรางวัลพิเศษ สำหรับท่านที่แต่งตัวจัดเต็ม 3 รางวัล)
Afternoon Tea 1 เซตสำหรับ 2 ท่าน พิเศษ เพียง 1,590 บาท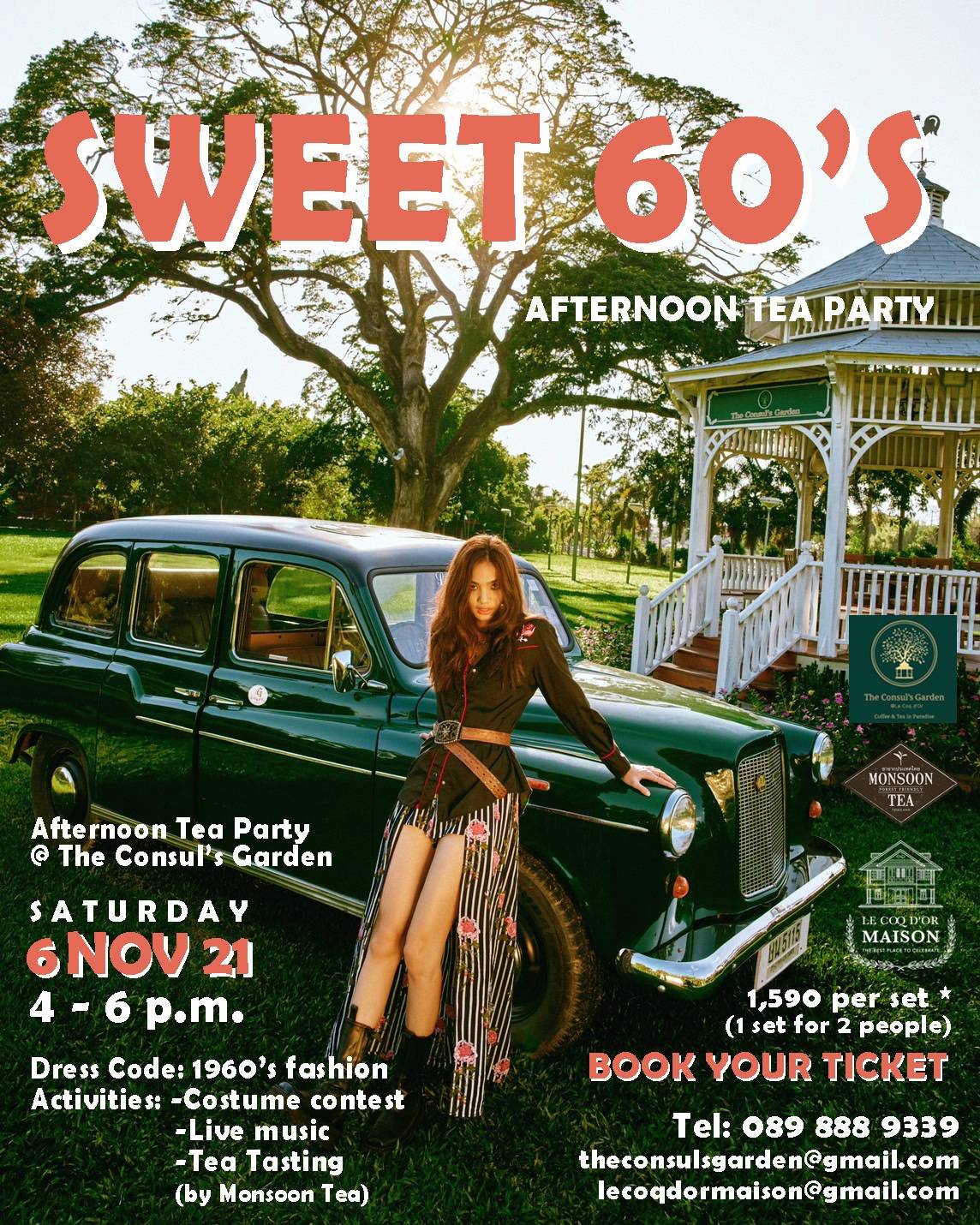 Event Details
Location:
The Consul's Garden