Summer Fruit Season at Xanadu
May 4 - May 31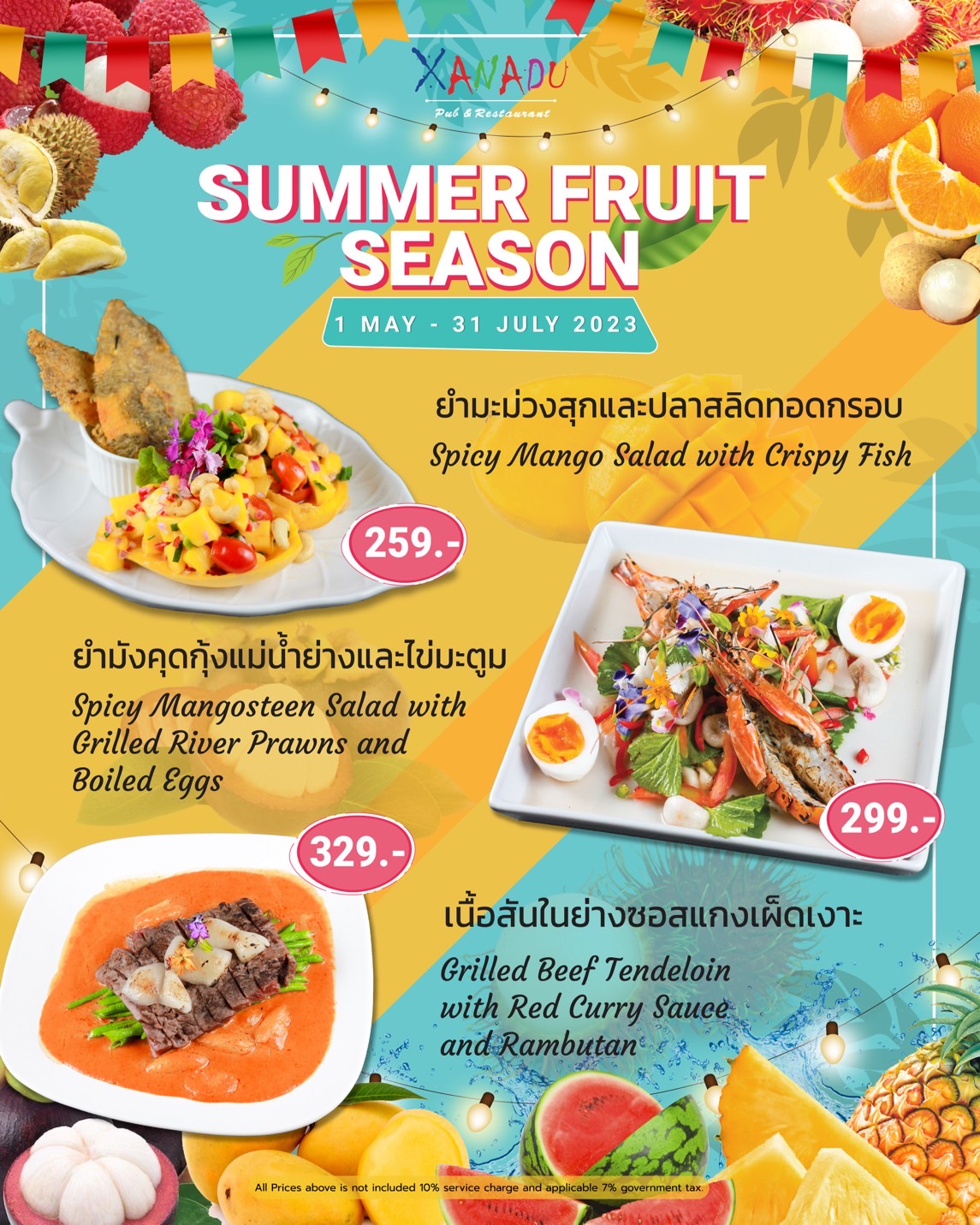 #Newrecommended
ฤดูกาลผลไม้คัมแบคทั้งที ซานาดูพร้อมเสิร์ฟเมนูพิเศษ เฉพาะซัมเมอร์นี้เท่านั้นนน‼️
ห้ามพลาดไปกับเมนูแบบไทยๆ มาพร้อมกับผลไม้ ให้ความรู้สึกสดชื่นคลายร้อนทุกครั้งที่ได้ทาน แถมยังได้ประโยชน์จากผลไม้ 
– ยำมะม่วงสุกและปลาสลิดทอดกรอบ
– ยำมังคุดกุ้งแม่น้ำย่างและไข่มะตูม
– เนื้อสันในย่างซอสแกงเผ็ดเงาะ
พร้อมเสิร์ฟแล้ววันนี้ – 31 ก.ค. 2566
อิ่มอร่อยกันได้ทุกวันตั้งแต่ 17.30-23.00 น.
สำรองที่นั่งและสอบถามข้อมูลเพิ่มเติม
โทร.053-415-222 หรือ inbox page
Summer Fruit Season Come back !!! Xanadu ready to serve a special menu only this summer!!️
Don't miss out the special Thai menu served with summer fruit.
– Spicy Mango Salad with Crispy Fish
– Spicy Mangosteen Salad with Grilled River Prawns and Boiled Eggs
– Grilled Beef Tenderloin with red curry sauce and Rambutan
Ready to serve frow now till 31 July 2023
Open daily : 17.30-23.00 hrs.
Reserve seats and more information•
Call. 053-415-222 or inbox page
Event Details
Location:
Xanadu Restaurant, Furama Chiang Mai