Rooftop Buffet – Adopt Me-ow Fundraiser
January 29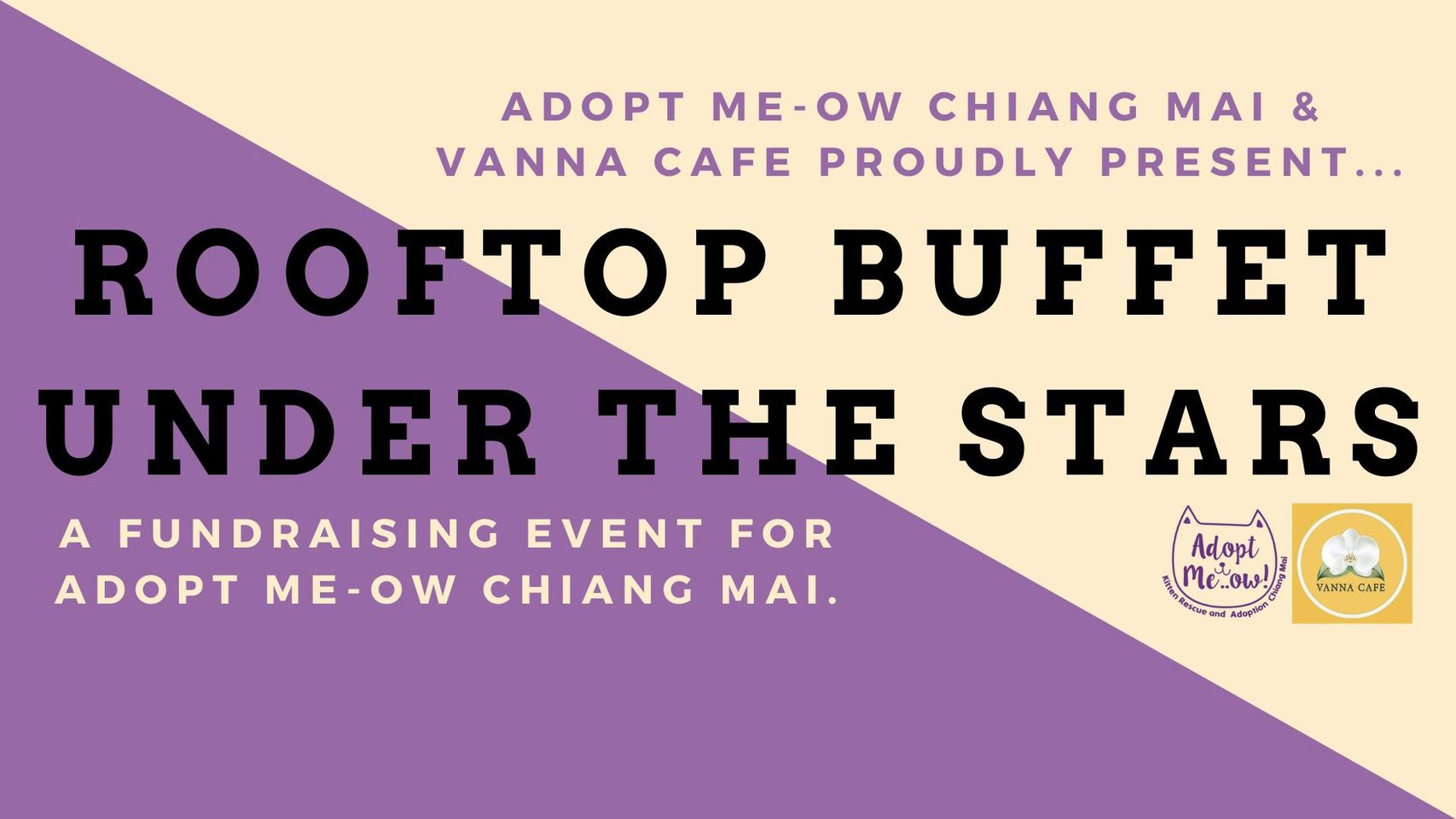 Adopt Me-ow Chiang Mai and Vanna Café are proud to present a rooftop buffet under the stars!
On the evening of Saturday 29th January, we will be hosting a buffet dinner with drinks, live music, a raffle & an auction, on a rooftop with panoramic views of Chiang Mai.
The proceeds from the evening will go towards Adopt Me-ow, a charity based in Mae Rim that rescues and helps cats and kittens in need. Adopt Me-ow provide medical care, a safe space for pregnant mums and kittens and also have a TNR (trap, neuter, release) program to help prevent unwanted kittens as well as helping find homes and families for stray cats and kittens. Adopt Me-ow runs solely on donations, so we are hoping to raise as much money as possible to help the cats and kittens of Chiang Mai.
EVENT SCHEDULE:
Doors open: 6:00pm
Buffet: 6:30pm – 10:00pm
Live music: 8:00pm onwards
Raffle and auction: 9:00pm
Doors close at midnight.
BUFFET MENU:
• Pumpkin fried with soy proteins (vegan)
• Green curry (tofu, eggplants, baby corn and carrots) (vegan)
• Chicken with cashew nuts
• Mala BBQ – meat and vegan options
• Watermelon &​ pineapple fruits
• Waffles (vegan)
• Herbal drink – pandan herbal drink, anchan herbal drink
• Orange juice drink
• Water
• White Rice
Please note: there will be additional cocktails and coffee for purchase at the bar at Vanna Café.
RAFFLE AND AUCTION:
We will be selling raffle tickets on the evening, as well as a silent auction on the evening. You can buy tickets/participate on the evening, no need to book in advance.
There are going to be some BIG prizes to be won, including a 4,000-baht Pinkie's Hair Salon voucher, tattoo vouchers, Rad Rabbit restaurant vouchers, acupuncture and cupping sessions and so much more to come. You do not want to miss out on these incredible prizes!
EVENT PRICING:
Early bird tickets:
Adults – 400 baht
Children – 250 baht
**BUY AN EARLY BIRD TICKET AND GET ONE FREE RAFFLE VOUCHER PER TICKET!** (Early bird tickets are the first 50 tickets sold online)
Bank information:
Bank: Krungsri / Bank of Ayudhaya
Account number: 530-1-34129-2
Account name: Miss Ponkramon Trakarnsakdikul
IMPORTANT: Please send the bank receipt and confirm your names to us via Facebook message @Adopt Me-ow Chiangmai. We need to see confirmation and add your names to the guest list.
At the door ticket prices – 450 baht per adult, 300 baht per child.
LOCATION:
Vanna Café, Hang Dong.
COVID RESTRICTIONS:
Please note that we will require all guests to wear a mask upon entering and exiting the building. We will also be conducting temperature checks upon entrance. If you are displaying any covid symptoms, please refrain from attending the event. We appreciate your cooperation.
More information and details will follow over the coming weeks. Please feel free to send us a message at "@Adopt Me-ow Chiangmai" if you have any further questions!
Event Details
Location:
Vanna Café, Hang Dong