New Year Eve's Dinner at the Vorra Bistro
December 31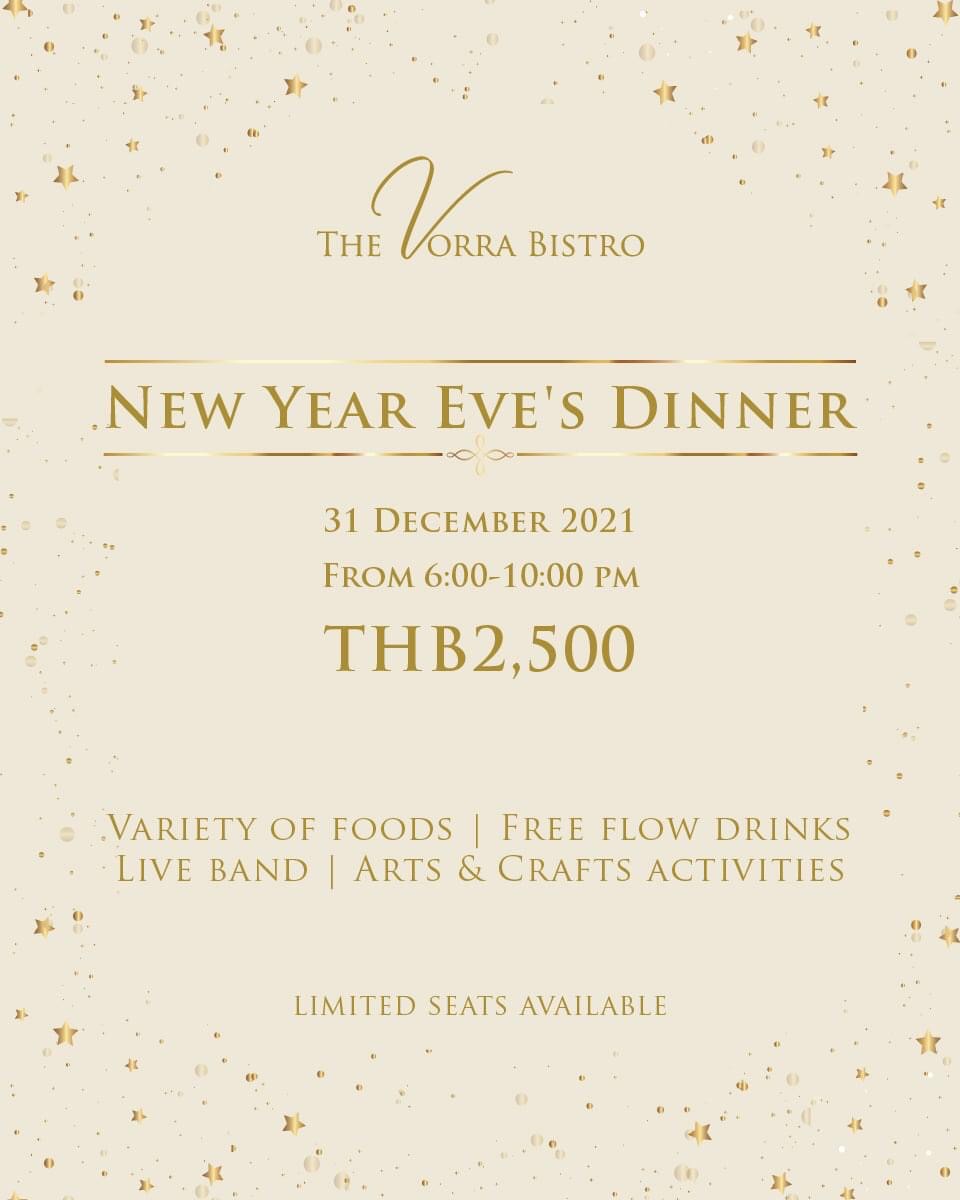 NEW YEAR EVE'S DINNER at the Vorra Bistro 
On 31 December, come and celebrate NY's eve with us at The Chiang Mai Old Town
Lanna-style market dinner in the garden with live band 18:00-22:00 hrs.
Variety of food (seafood & meat grill, Thai, Italian, desserts)
Free flow quality drinks unlimited!
Arts & crafts activities for kids and live band in the garden
THB2,500 net per person only. 
Limited seats available. BOOK NOW!
INFO & RESERVATION:
LOCATION : https://goo.gl/maps/4mFDz2cYCgGVqiDS6
TEL : 053 278 780
LINE : @thechiangmai or click https://lin.ee/1ZRgRd6
ได้เวลาปาร์ตี้ปีใหม่ ชวนเพื่อนมานั่งชิล อาหาร เครื่องดื่มไม่อั้น บรรยากาศในสวน รับอากาศเย็นสบาย พร้อมดนตรีสด ที่ The Chiang Mai Old Town 31 ธันวาคมนี้ บอกลาสิ้นปี พร้อมต้อนรับปีใหม่ สไตล์กาดหมั้วกับเรา ดินเนอร์ปารตี้เริ่ม ตั้งแต่เวลา 18:00-22:00 น.
อิ่มอร่อยกับ ซุ้ม BBQ ซุ้มอาหารไทย ซุ้มอาหารอิตาเลียน และ ซุ้มของหวาน
เครื่องดื่มคุณภาพหลากหลายชนิด ไม่อั้น!
พร้อมมุมกิจกรรมสำหรับเด็ก และ วงดนตรีสด 18:30-22:00 น.
ดีลสุดต๊าช!!! เพียง 2,500 บาทต่อท่าน (ที่นั่งจำนวนจำกัด) 
Event Details
Location:
The Vorra Bistro, The Chiang Mai Old Town Hotel