Mär ' Art Exhibition | 07.10 – 03.12.2023
October 7 - December 3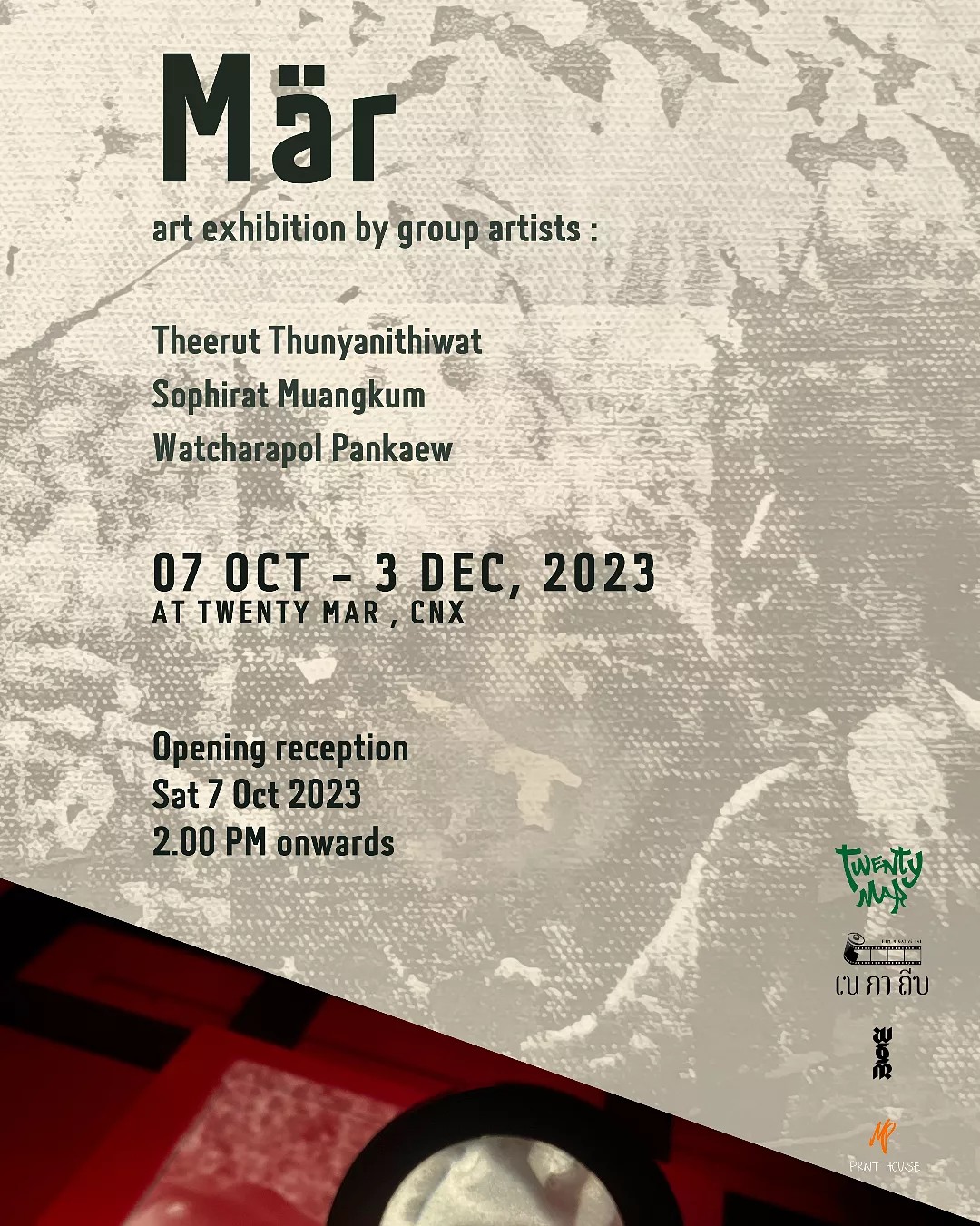 art exhibition by group artists :
Theerut Thunyanithiwat / Sophirat Muangkum / Watcharapol Pankaew
07 oct – 3 Dec, 2023
At Twenty mar , CNX
Opening reception
Sat 7 Oct 2023
14.00 p.m. onwards
supported by Twenty Mar Cafe/สตูดิโอ พุทโธ/Negative Film Lab/MP Printhouse
Mär (Mar) is a pronunciation of the word Mar that means transformation or destruction.A pin in the cycle of creation or evolution. coming from destruction Even though the word "destroy" has a negative connotation, on the other hand, knowing that we can create something again after that. It is hope in both abstract and concrete forms, frankly.
In many works of art,"ego or self" in work is considered necessary, or sometimes it is believed that work is impersonal. This is considered bad work, even though "adhering to the unchangeable" may become a trap for not improving.This exhibition is a collaboration between photography artists (Photography, Wet plate collodion) and printmaker (Printmaking) using photography as a starting material. change shape and reinterpret using techniques according to the expertise of each artist.
"You fill up the frame with feelings, energy, discovery, and risk, and leave room enough for someone else to get in there." – Joel Meyerowitz  –
Theerut Thunyanitiwat (1990) 
Graduated from the Faculty of Fine Arts and Architecture, majoring in Graphic Arts.
Rajamangala University of Technology Lanna, Payap Region, Chiang Mai
After graduating, the artist worked on printmaking at the JOJO KOBE gallery.
And at the same time, he has begun to display art continuously from 2012 to 2022.
Started the establishment of Studio Puttho to develop creative works in his own unique style.

Watcharapol Pankaew (1984)
Owner of "Negative Film Lab", a film developing shop in the middle of Chiang Mai city, who has a strong passion for film photography. He is a person who likes to experiment. Whether it's a film camera as dark room process Until taking pictures with wet plate collodion.He is invited to attend the Chiangmai Design Week to demonstrate methods and lectures on wet plate photography (Collodion Wet Plate) in 2022. Established the brand 'Negative' – Dry Plates (dry glass sheets) for those who like and want to experiment with wet/dry plate photography

Sophirat Muangkum (1983)

Sophirat is a self-taught artist and currently one of Thailand's leading nude photographers. She had spent 3 years working as a photographer in Germany prior to moving back home in 2013 where she started to exhibit her works and established herself in the Thailand art scene.
Sophirat is interested in human thought. She is often inspired by stories of people,nature,animals, subculture and the situation of Thai society. She answers her questions thru her works about what she was interested in at that time. Since 2019, she starts join 'artist-in-residence' program because she would like to has an opportunity to research and collaborate with local people about what do they think about their own body and ask them to use their own body to talk about situation at that time such as politics, nature, pollution, subculture, beauty standard etc. Besides, she tries to empower people to start loving their body and respect diversity.
Her works have been exhibited, among the others, at Bangkok Art & Cultural Center (BACC), Photo Fair Thailand at BITEC (Bangkok), Toot Yung Art Center (Chiangmai), Museum of Contemporary Art – MOCA (Bangkok), Objectifs-Centre for Photography and Film (Singapore), Rebel Art Space (Bangkok), Innerspace (LA,USA). Her solo exhibition has been exhibited at most gallery, also a part of 'Galleries night Bangkok'.
Beside being an artist, she is a freelance curator who is interested in emerging artists. Sophirat was a curator for 'Phayao Photography Biennale 2021-2022'& "Chiangmai Blooms City Gallery 2023"
Sophirat also works for commercial projects and publications. Her images have been featured in VOGUE Italia, ThaiPBS, Play Magazine Thailand, Zoomaa (Norway), KALTBLUT Magazine (Germany),BOOMER Magazine (England) and Blast Magazine Thailand.She is also a guest artist at many photography workshops and talks.
Her works are part of the collections of MAIIAM Contemporary Art Museum (Thailand), Museum of Contemporary Art (MOCA BANGKOK) and various private collections.
Event Details
Location:
Twenty Mar Cafe