Four Hand Dinner at Oxygen Dining Room
May 10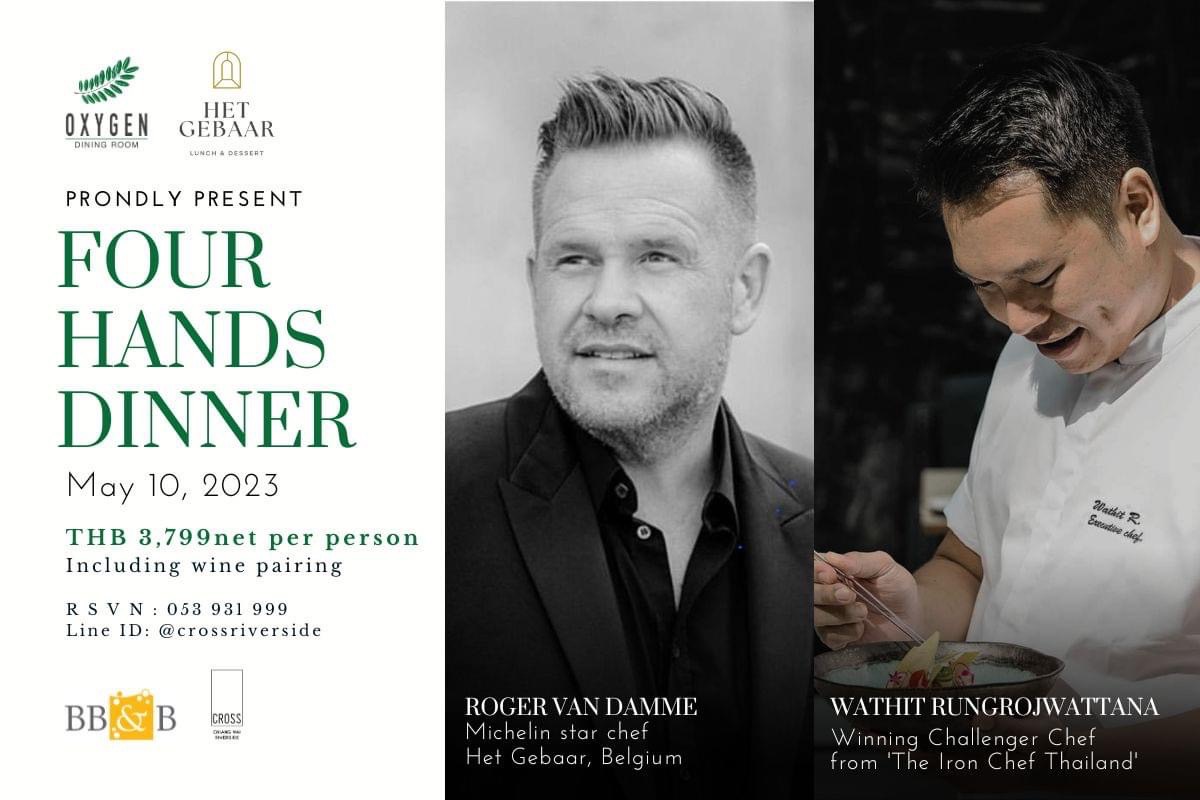 Get ready for a culinary experience like no other at Oxygen Dining Room's upcoming four-hands collaboration dinner event! 
Join us for a luxurious 7-course 'Thai-French' set menu crafted by two of the world's most renowned chefs, Roger van Damme and Wathit Rungrojwattana. Indulge in a fusion of Thai and French flavors that will transport your taste buds to a whole new level of #gastronomic delight.
𝗖𝗛𝗘𝗙 𝗥𝗢𝗚𝗘𝗥: Roger van Damme, the world champion pastry chef from Het Gebaar – Antwerpen: A one MICHELIN Star Restaurant in Belgium 
𝗖𝗛𝗘𝗙 𝗞𝗛𝗘𝗠: Wathit Rungrojwattana, 3 years acknowledged in the coveted Thailand Tatler Awards as being one of the finest restaurants in Thailand and got recommended in the 2022-2023 edition of the MICHELIN Guide Thailand.
Enjoy A luxury 7-course 'Thai-French' set menu at THB 3,799 net per person with 4 glasses of wine pairings
Date: 10 May 2023, 6 – 10 pm
Menu: https://bit.ly/FourHandDinner2023Apr
Get 10% discount when you mention Citylife
สัมผัสประสบการณ์การรับประทานอาหารอันเหนือระดับ ด้วยมื้ออาหารพิเศษจาก 2 เชฟยอดฝีมือ สู่อาหาร 7 คอร์สในสไตล์ ไทย-ฝรั่งเศส ณ ห้องอาหาร Oxygen Dining Room 
ด้วยความร่วมมือจากเชฟผู้เชี่ยวชาญสู่การรังสรรค์เมนูที่ไม่เหมือนใคร ด้วยการผสมผสานทักษะพิเศษและความคิดสร้างสรรค์ที่ถูกสั่งสมมาตลอดการทำงาน ตั้งแต่จานเรียกน้ำย่อยรสเลิศจนถึงจานของหวาน จะเป็นงานศิลปะที่ทำให้คุณเพลิดเพลินไปกับรสชาติรูปแบบใหม่
𝗖𝗛𝗘𝗙 𝗥𝗢𝗚𝗘𝗥: Roger van Damme เชฟขนมอบแชมป์โลกจากร้าน Het Gebaar – Antwerpen: ร้านอาหารมิชลินสตาร์ 1 ดาวในเบลเยียม 
𝗖𝗛𝗘𝗙 𝗞𝗛𝗘𝗠: วาทิตย์ รุ่งโรจน์วัฒนา เชฟเจ้าของรางวัล Thailand Tatler Awards 3 ปีซ้อนในฐานะหนึ่งในร้านอาหารที่ดีที่สุดในประเทศไทย และร้านที่ได้รับการแนะนำใน MICHELIN Guide Thailand ฉบับปี 2022-2023
เพลินเพลินกับมื้ออาหาร 7 คอร์ส ในสไตล์ไทย-ฝรั่งเศส ในราคา 3,799 บาท ต่อท่าน พร้อมไวน์แพริ่ง 4 แก้ว
วันที่: 10 พฤษภาคม 2566, 18.00 น. – 22.00 น.
เมนู: https://bit.ly/FourHandDinner2023Apr
𝗙𝗼𝗿 𝗿𝗲𝘀𝗲𝗿𝘃𝗮𝘁𝗶𝗼𝗻:
Call: +66 53 931 999 ext. Oxygen Dining Room
Email: Stay@crosschiangmairiverside.com
Event Details
Location:
Oxygen Dining Room, Cross Chiang Mai Riverside